Braylon Dunlap
Staff Writer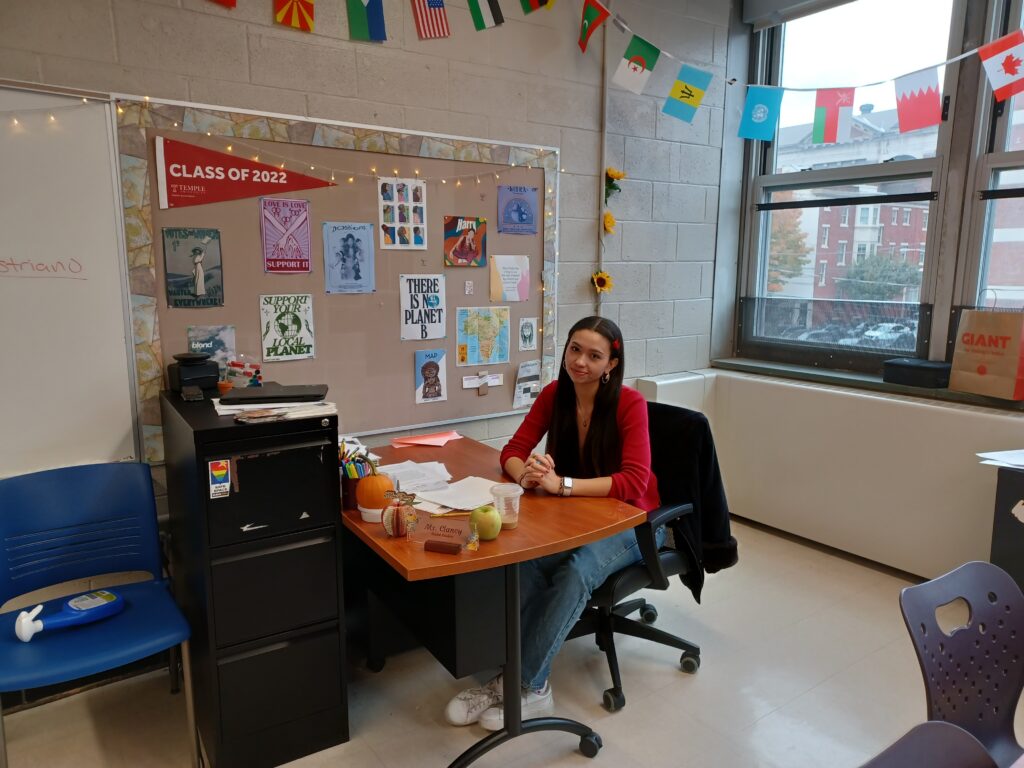 As many people know, there are a few new additions to SLA's staff this year with a brand new member being History Teacher Alexis Clancy. If you're in her advisory or African American history class you may have already met her but there are some other interesting things about Ms. Clancy that not everyone will know about.
It may not come as a surprise that teaching is Ms. Clancy's passion. Ever since middle school she says she has wanted to be a teacher and she very much enjoys her job. Despite that though she still has other passions like music. In high school, she said she was a total theater kid but strayed away from it once she became an adult.
Ms. Clancy hasn't always lived in Philadelphia. She is originally from Harrisburg, Pennsylvania but came to Philadelphia for college.
"I went to a Temple for secondary education with a focus on social studies, and I knew that I wanted to stay in state for college but I wanted to be in a city and I didn't want to go to Pittsburgh, so Philadelphia was my next option."
While Ms. Clancy acts super outgoing and talkative as a teacher, she was actually quiet and shy in college.
"I feel like there are so many things y'all wouldn't know about me," she said. "I used to have a lot of stage fright. I think a lot of students see my happy and kind of out there presence in class, I think teaching helped me with that. Now I just chat everyone's ears off."
Now that she's a teacher in the school district, she has full days and even fuller evenings.
When school ends, Ms. Clancy explained, "I go home, I immediately get off the subway and go to the tech center building on Temple's campus and try to do work for 2-3 hours and then I walk back to my apartment, shower, and just try to get my life together then hang out with my roommate."
Just like the Freshman, Ms. Clancy is developing her first impressions of SLA, and they are positive.
Nearly all students take their work very seriously," she said. "And I find the kids have a lot of personality and a lot of confidence, although sometimes that can lead to too much and some disruption in class."
Even with that, the school culture is Ms. Clancy's favorite aspect of SLA. It allows the students to interact with each other and push themselves to achieve goals they might have not thought they could achieve.
Students and staff alike seem to enjoy Ms. Clancy's presence in the school. "The staff are very welcoming and friendly, as compared to other schools where your new coworkers can be a little intimidating," she said.
"She is a great person, I would have to say she's a caring soul and I hope she doesn't get burned out through teaching,' said Health and Physical Education teacher Mr. Bracy who is also her fellow advisor.
"She's really nice and I feel like she understands us because she is younger," said Freshman Fern Duffy, who is in her African American History class.
Ms. Clancy's energy and enthusiasm are also a part of why she was hired.
"She gave a fantastic interview, she was clearly really smart and knowledgeable about the culture at SLA, and her energy and enthusiasm really shone through," said Principal Mr. Lehmann.