Meymey Seng
Staff Writer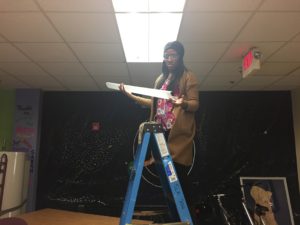 Flickering lights around the school? Never fear, SLA has a new building engineer, Ikea Faust! Even though she had just started, she has already fixed all the broken lights on the third floor. When asked how this experience was, she responded with "I think it's really challenging. Although I like this school in particular. I really like the atmosphere here, it reminds me of a college atmosphere. I will stay here for a long time."
Background
Science Leadership Academy is Ikea's first school building that she has worked on. She found out about the opportunity when her boss notified her of SLA's need for a new building engineer. After hearing this, she immediately took the job. Ikea previously worked at a nursing home.
Current Work
Ikea's work is not very visible to students — but there is a great deal that she does each day to keep the building functioning.
She comes in every morning to check the building, making sure there's heat when it's cold and cool air when it's warm. She then walks the premises to ensure no one got in overnight, let students in around 6:30 AM, and makes different orders for needed supplies.
If there's not many things that need to be fixed, the daily basis routine is to make sure that all the lights work, the ceiling tiles are up, and there are no leaks in the building.
A Positive Impact
When asked about the new building engineer, the staff of SLA were uniformly positive.
"We have somebody that's always going to keep up the building and if we have issues then that's the person that we can talk to," said Spanish teacher Señorita Hernandez.
"When we came back from break, the ballroom was lit! Literally, it had lights and I never seen the ballroom so bright, so I was like wow!"
Excellence Coordinator Jeremy Spry said, "Ikea has been really helpful into making sure that this building remains a place that is well maintained and taken care of. It's been awesome having a new building engineer to make sure that the building is looking good, well lit, things like that."
Even though her work is not as known, it is what keeps this building functioning.