Meymey Seng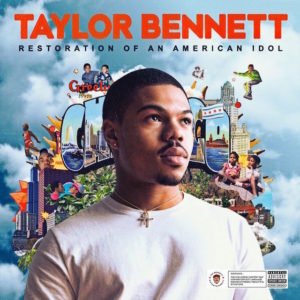 Staff Writer
Restoration of An American Idol. That is the name of the new album that was released on February 24 by twenty-one year old recording artist Taylor Bennett. Previously, he has made other mix tapes and albums too. Although, he does not sell his music, people are able to download or listen to it online for free.
A large portion of his music is inspired by his hometown, Chicago Illinois, and his personal experiences. Also, his older brother Chancelor Bennett or Chance the Rapper is another inspiration of his. Listening to this album, it was amazing. Although of course there are a few songs that I liked more than others.
I really like this song. The lyrics are well written and put into aesthetic rhymes. This song was able to capture the process of him creating this album. It did take me a couple replays for me to fully appreciate the song. At first, the chorus kind of threw me off because it sounded very techno, but now I think that it fits perfectly and Princeton is the singer of the chorus. He also expressed that he's thankful to be able to use music to express his feelings.
When I first listened to this song, I had mixed feelings about the intro because it sounded like the intro to a science video. The lyrics were okay because it was about getting high and other things. Although, I realized that he was talking about his personal experiences and how it shapes who he is now. This made me more intrigued to the song to listen to what he has been through.
I would have to say that this is my favorite song on the album, I love it! In this song he collaborates and sings with Chance. The intro of the song is simply a hum from Chance and then it gets to him rapping. It talks about trying to find themselves, so the verses in this song is really strong and the rhymes are amazing. The chorus is also sung well by Jeremih. Halfway through the song, Taylor starts to rap and the contrasts between their voices sound really good. Chance has a smoother voice while Taylor has a raspy voice.
This song is really great and is my second favorite. I would describe it as the perfect song to replay constantly on the bus. It is pretty upbeat and the other artists who also sung are Kyle and Luke Tennyson. Both Taylor and Kyle's verses are very catchy and just pleasant to hear. The chorus is also great and it is sung with an instrument in the background by Luke. Kyle raps about the future. Halfway through the song, Taylor starts to rap and he talks about his past experiences.
The beginning of this song sounds really good. I'm honestly not too sure how to describe it but it's reminds me of windchimes in a great way, followed by the hook from Aubree Jenai. This song is written from his personal past relationships but it is focused on a specific one with a girl he used to go out with. The beat in this song is what I really enjoy, with both earbuds in, it feels like you're there in a sense.
This is one of the first songs that I heard on this album. It basically talks about how it is difficult to win awards for music when you are a new artist. He collaborated with Jordan Bratton and Stro The MC. It's a really peaceful, relaxing, and catchy song.
If I had to choose, out of all of the songs on his album, this would be my least favorite. The music in the beginning was okay. The beat kind of reminded me of the beginning of a boxing match, although I'm not too sure why. I didn't like the hook and verse sung by Raury. Although, I did like Taylor's verse a bit more. With this said, still occasionally I would put this song on.
The beginning of this song is great. It's like an energetic beat that would make you walking to the music or bob your head. The hook by Supa Bwe matched perfectly and just generally sounds really good. Taylor's verse was also amazing, where he talked about his personal interests. Lil Yatchy's verse a little more than halfway through the song sounded really well, especially since he has a smooth yet deep voice.
This song was honestly not the greatest. The verses were okay but it was mostly the background music that threw me off. I didn't really think that the two matched nicely. The beat was also okay. Although, I like how the lyrics were based of off Chicago.
Overall, I think that this is an amazing album and I would still give it a five out of five. If an album has the ability to draw in my attention so strongly, where I listen to it everyday, I would consider it amazing. If you want to enjoy some great music, I would definitely recommend this album.