Mekhi Granby
Staff Writer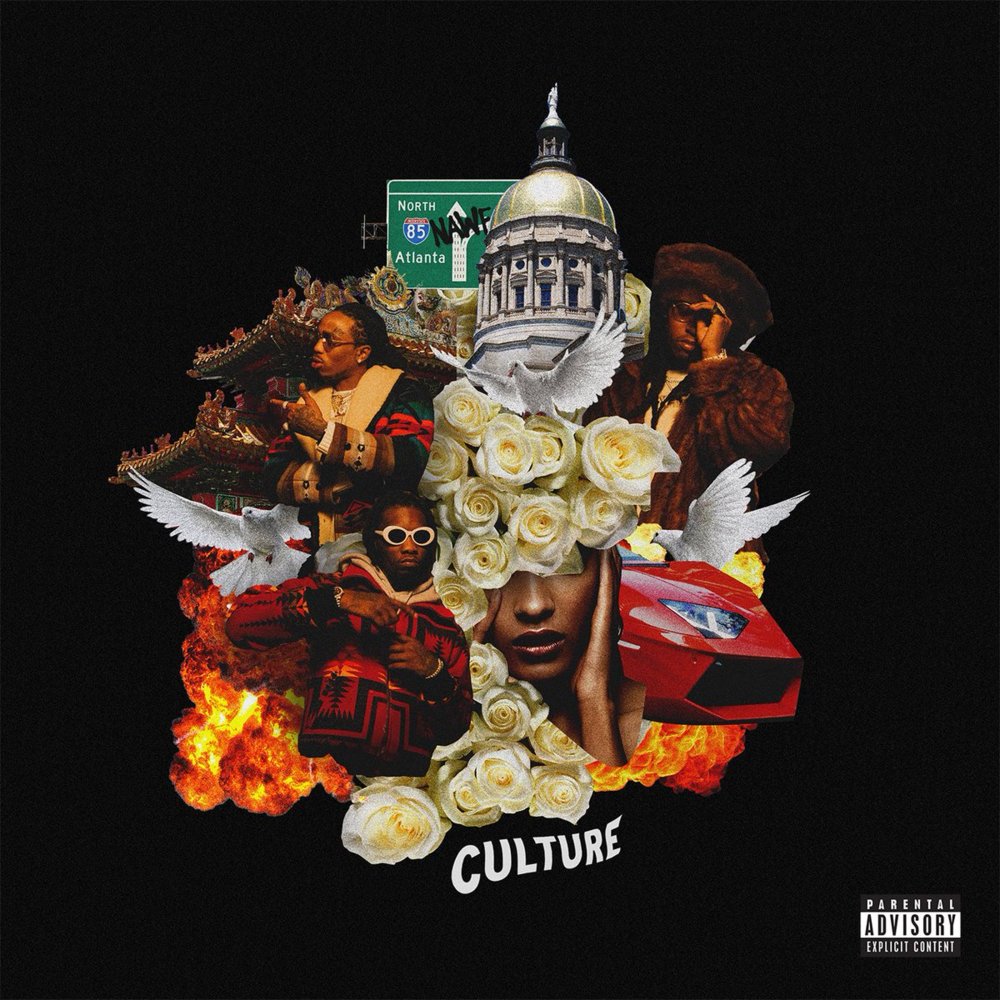 Migos is an American hip hop group from Lawrenceville, Georgia that formed in 2009. The group consists of three members, known by their stage names Quavo (Quavious Marshall), Takeoff, and Offset (Kiari Cephus).
Migos got lots of attention in 2013 for  their first charting-song "Versace" from the mixtape Y.R.N. (Young Rich Niggas), which featured Drake. They later released several successful singles such as "Fight Night" (2014), "Look at My Dab" (2016) and the chart topping hit "Bad and Boujee." The group released their debut studio album, Yung Rich Nation, in 2015, through Quality Control Music and 300 Entertainment. Their sophomore effort Culture was released on January 27, 2017.
Because Migos have established themselves as a part of hip hop royalty, expectations are very high for this new album. Does it live up to the hype? I will be giving an in-depth-review of Culture, track by track.
The intro is very well executed, it sets up the mood for the whole album. It's high energy but not very fast paced at the same time. There's a laid back beat playing as Migos lay 4 verses. DJ Khaled is featured although he doesn't rap at or sing at all on this song, he speaks. Khaled introduces the album and closes out the song praising Migos. Culture covers usual topics such as the Migos wealth and spending habit, with snippets of DJ Khaled hyping up the Migos with some of his famous Snapchat quotes.
2.  T-Shirt
This song is the first single appearing on the album. T-Shirt was released prior the album to surround and create hype for the upcoming album. T-Shirt isn't my favorite from the album because I already listened to it a million times prior to hearing the album, but nevertheless it's currently #43 on Billboard's Hot 100. On the hook, Quavo says "Seventeen five same color T-shirt" which is repeated throughout the song. "Seventeen five" is a reference to cocaine prices, $17,500 is considered a deal for a kilo which infers that one is high up in the drug game.
3.  Call Casting
Track 3, the second single to appear, also released before the album and it showcases Migos' usual flow over a smooth beat produced by Buddah Bless, the man behind 2 Chainz's "Big Amount." This track talks about selling drugs and driving nice cars, not too surprising coming from Migos.
4.  Bad and Boujee (feat. Lil Uzi Vert)
Track 4, the third single to appear on the album, is currently #1 on Billboard's Hot 100. This track has gained Migos a huge amount of attention and created a spotlight for them which makes now the perfect time to release an album (which they did). Migos actually performed this song on "Jimmy Kimmel Live!" meaning they reached even more of an audience. What makes it stand out Offset. He does the chorus and the first verse which topped everyone else on the track. He created a catchy chorus which sets up both Lil Uzi Vert and Quavo's verses. For some reason Takeoff isn't on this track for some unknown reason, Migos were asked on The Breakfast Club "what happened to Takeoff's verse on Bad and Boujee" and they responded with "we're working." Bad and Boujee is making money and hanging around women with an expensive taste.
This song is one of my favorites. The instrumental is crazy on this one, it's very distinguishable from the others. There is a flute like sound added to the background of the beat which makes this instrumental different. I think the way the tracklist is set up is really important. From track 4 which is #1 on Billboard's Hot 100 to Track 5 there is a smooth transition in my opinion. For people who don't know Migos I would recommend this song to them because it represents Migos' sound well and reflects what their other work sounds like. Each member of the Migos deliver excellent verses and collaborate properly, which they tend to do often on other records.
6.  Slippery (feat. Gucci Mane)
Another great instrumental plays as Migos lay 3 verses with the addition of a verse from Gucci Mane. This track is a more calm and laid back one but that's what amazes me, Migos makes music that gets me hype but calm at the same time. I have no clue how they provide such high energy but remain calm in their delivery. Slippery discusses the common topics of jewelry and drugs.
7.  Big On Big
Track 7, is ehhh. This isn't a track I feel like is one of  the best, it could've been left off the album in my opinion. Not that it's a bad song or anything, it's just not as good as the previous ones. I think the chorus should've been better because it's so repetitive. I understand that making a song better than the last can be difficult especially if the previous song was fire. Big On Big covers the Major success of Migos as of recently.
Track 8, this song showcases Migos executing a different sound, I don't blame them for trying new stuff but this song is not for me. It's more vocals and singing than rap but I'm pretty sure someone else will like it.  I don't like this one because it doesn't sound like the usual MIgos I know and love. I don't like that it sounds more like an experiment than a song. I don't see the effort in this track. Migos discuss the fluctuation of drug prices and their spending habits on this one.
Track 9, back to the basics as Migos continue to provide their well known flow and adlibs. This song reminds me of track 6 which is one of my favorites so it's definitely a good one. Similar instrumental and flow which I would say wasn't expected after the previous track. Riches and wealth are the highlights of this track.
This is not good. The instrumental throws everything off. It sounds like some weird piano type thing, and the chorus is trash . This song features a verse from 2 Chainz which leaves me puzzled, overall I don't like this song it's a skip for me but I salute Migos for trying different sounds, I know that can be risky. This song is about counting money which Migos do very well.
11.  All Ass
I can get down with this one. The title is funny but the song is hard. It's a little more vocal than usual but I like it, it's not too much. The instrumental is what brings this song together, it has that classic boom bap feel. Migos do a great job over this one. The theme of this track is beautiful women with a lot of booty.
12.  Kelly Price (feat. Travis Scott)
Track 12, focuses on the usual Migos' topics: drugs, women, and material possessions. This song features Travis Scott, I feel like Migos adapted to his sound on this one. A lot of singing and adlibs. Once again, not one of my favorites. This track gives insight to Migos' women, materialistic, and drug filled lifestyle.
13.  Out Yo Way
Track 13, more singing. I like the vibe of this one for some odd reason, it's really similar to the songs I don't like but I seem to like this one kind of. For the outro it could've been better but it makes for a good closing song. It ends the album on a cool note leaving listeners (or just me) satisfied with this album. For the outro, Migos takes the time out to give praise to all the women who go over the top to make them happy.

Readers should listen to this album because it is well put together and Migos bring the energy so if you need an extra boost of adrenaline you should give this album a listen. I would recommend tracks 1, 2, 3, 4, 5, 6, 9, and 13, anyone who has not heard of the prior to reading this article because they have different vibes to them and showcase Migos' versatility. If you have the time to listen to the whole album, you should. Although I don't like every song as much as I like others, you might.