By Maya Smelser
Staff Writer
SLA recently welcomed Spanish teacher Mercedes Broughton-Garcia, or Ms. Garcia to her students. After spending 7 years as a science teacher next door at Ben Franklin High School, she is transitioning to life at SLA.
Background & Family Life
"That's a loaded question," Ms. Garcia replied when asked where she was from.
When she moved to the US, she was in an English learning class, where "little by little it gradually added more English, until 4th grade when it was completely immersed in English."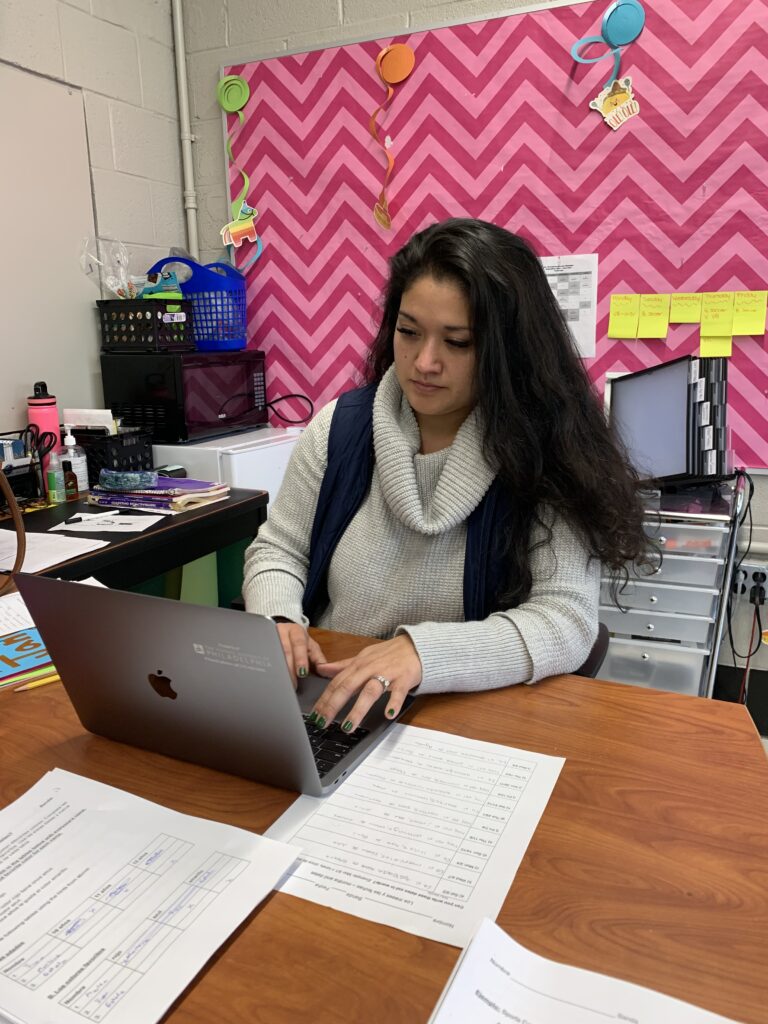 Being that she was born in Ecuador, Spanish was her first language. She explained that her parents, "don't speak much English, so it is definitely the dominant language in our house." 
In her free time, Ms. Garcia enjoys playing board games, cooking and baking, and being with her family.
She was born in Guayaquil, Ecuador and lived there until the age of 6. Her family then decided to move to the United States, settling in West Chester County, New York, located outside the Bronx. In her senior year of high school, they moved again, this time to Greenwich, Connecticut. She moved to Philadelphia with her husband, who is an aerospace engineer, 8 years ago.
"Most of my time goes to my toddler," she admitted. "Over the summer, I took her out almost every single day, to the Please Touch Museum and different places. I would call that a hobby right now, just parenting my child."
Teaching Career
Ms. Garcia said she "always wanted to be a teacher growing up." She recalled making her basement into a classroom when she was around 7 and playing teacher with her younger cousins, who she lived in a two family home with growing up.
She attended Syracuse University for her bachelor's degree, where her original plan was to be a language major and dual in education.
She went on to explain, "when I got to Syracuse they told me I could only do one or the other, so I ended up just being a language major. After that I didn't want to be a teacher, but at some point I moved back to teaching."
She then started her teaching career in the Bronx, at Montefiore Community School, and was there for a year. When she moved to Philly, she started at Ben Franklin, and earned her Masters in education from the University of Pennsylvania along the way.
Transition to SLA
Ms. Garcia called the transition to SLA "exciting." She admires the supportive community of the school. "Everyones constantly coming and checking in. Good to bounce ideas with, which is something I didn't really see in the past." The hardest part for her has been the transition from teaching science to language, but she feels she is getting into her groove.
When asked what she hoped to bring to the SLA community, Ms. Garcia explained, "as a Latina and Spanish teacher, I would love to bring more awareness to Latin culture, especially now that today's the first day of Hispanic Heritage Month, I'm planning on leaning heavy on the culture on the different dialects, accents, all of that."
She also has big plans for future programming.
"At some point, I would love to take students abroad. I did that at Ben Franklin, I took them on a trip to Costa Rica right before COVID hit and it was such an amazing experience."
SLA Principal Chris Lehmann spoke highly of Ms. Gracia, saying, "[she] really gave an amazing interview, and the committee was very excited by the idea that she wanted to come to SLA. She brings a great deal of experience and intelligence to the school, and we are thrilled to have her. I think she will be someone who will be an amazing collaborator with both her colleagues on staff and the kids of SLA."