Avi Cantor
Staff Writer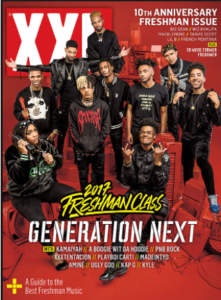 Since 2007, XXL Magazine makes one issue each year highlighting the year's most prominent emerging artists in Rap and Hip Hop. This edition helps young artists expose and provide their art to a larger audience using the cover as a milestone to prove that their accomplishments exceed those of their peers. "The Freshman Cover" has been widely regarded as a platform that artists can aspire to be a part of, and has launched the careers of Meek Mill, J Cole, Kendrick Lamar, Travis Scott and Lil Uzi Vert, among many others.
So who will end up on the cover this year? I have some predictions — and readers should know that this list has less to do with my opinion, and more to do with numbers.
As I did last year, the article is divided into two sections. The first section reveals my picks for the ten freshman spots, including three artists who will have an asterisk next to their name. The asterisk signifies an artist who I think has the potential for greater longevity in the industry than their peers.
In the second section, I have included a list of people I think barely didn't make the cut for the cover, but could make the cover in years to come.
6ix9ine (pronounced SIHX-NIYN)
Notable Collaborators: Young Thug, Tory Lanez, Fetty Wap, A Boogie Wit Da Hoodie, and more.
Noteworthy Accomplishments:
Bhad Bhabie (pronounced BAHD BAY-BEE)
Notable Collaborators: RONNY J (Producer), Lil Yachty, Rich the Kid, MadeinTYO, and more.
Noteworthy Accomplishments:
Lil Skies
Notable Collaborators: Cole Bennett (owner of Lyrical Lemonade), Cufboys (Youtuber), Rich the Kid, and more.
Noteworthy Accomplishments:
Lil Baby*
Notable Collaborators: Migos, Lil Yachty, Young Thug, Gucci Mane, Kodak Black and more.
Noteworthy Accomplishments:
*Atlanta native Lil Baby may sport a name that would imply that he is soft, but his music paints a completely different picture. Baby's music depicts drug dealing and violence with a smooth auto-tuned lased flow that gives his gritty past a melodic format to thrive. Since starting his career just over a year ago, Baby has shot up from the Atlanta underground scene into the mainstream stratosphere. He is signed to arguably the most prominent independent label, Quality Control Music, and has used this partnership to his advantage.
Rich Brian
Notable Collaborators: RONNY J (producer), Offset, XXXTentacion, Young Thug, Diplo, Justin Bieber and more.
Noteworthy Accomplishments:
Ski Mask The Slump God
Notable Collaborations: Cole Bennett (owner of Lyrical Lemonade), RONNY J, A$AP Ferg, Offset, XXXTentacion and more.
Noteworthy Accomplishments:
Tee Grizzley
Notable Collaborations: Meek Mill, Lil Yachty, Takeoff, Mike Epps (actor), A Boogie Wit Da Hoodie and more.
Noteworthy Accomplishments:
Trippie Redd
Notable Collaborations: Swae Lee, Alison Wonderland (Producer), Travis Scott, Lil Yachty, Diplo (Producer/ DJ), XXXTentacion, and more.
Noteworthy Accomplishments:
YBN Nahmir*
Notable Collaborations: SOB x RBE, Cole Bennett, Rich the Kid, Izak (producer), No Jumper and more.
Noteworthy Accomplishments:
*Birmingham, Alabama native YBN Nahmir is an 18-year-old rapper that has taken over teens across the country with his rapid-fire flow, charisma, and energy. His content is surprisingly mature despite his age and the very violent and sometimes misogynistic lyrics that find their way into his songs. He doesn't enjoy flaunting sexual conquest or saying that he's the "best rapper alive" as opposed to many rappers. However, the most integral aspect of his success is his the moniker that constitutes his first name. YBN, his group, has cultivated the talents of video producer Water Whippin Evan, YBN Almighty Jay–who is in consideration as well for the XXL Freshman cover–, YBN Cordae and YBN Walker.
YoungBoy Never Broke Again*
Notable Collaborations: Future, Lil Yachty, A Boogie Wit Da Hoodie, Plies, Yo Gotti, PnB Rock, and more.
Noteworthy Accomplishments:
*Despite more than his fair share of run-ins with the law, YoungBoy Never Broke Again, formerly known as NBA Youngboy, has been an undeniable hitmaker for the past two years. The Baton Rouge native has been churning out both underground and mainstream hits with an uncanny ease that isn't seen often in Hip/Hop. Armed with street cred, a plethora of deliveries so that none of his songs sound the same, and scores of connections laid out for him to collaborate with, the teenage rapper has quite the career ahead of him.
Might Make the Cut:
Famous Dex: Chicago native Famous Dex was a no-brainer for the XXL cover due to his strong fan base and his chart-topping hit "Pick It Up" that featured A$AP Rocky. However, Dex has two huge roadblocks that won't allow him to be on this list. First, Dex was snubbed from the XXL cover last year due to a video being released of the rapper assaulting his girlfriend. Then, after the news broke that Dex wouldn't be on the cover and why he wasn't on the cover, the Rich Forever signee went ballistic and savagely attacked Editor in Chief of XXL, Vanessa Satten.
Time estimated for cover appearance: Unclear
Smokepurpp: Florida native Smokepurpp has garnered an underground cult following with the help of close friend and collaborator, Lil Pump. The rapper has had a ton of success lately with several records including "Fingers Blue" that featured Travis Scott, who would go on to sign him to his Cactus Jack label.
Time estimated for cover appearance: This year is a possibility, but if he doesn't make it this year, then 2019 is a given if he mimics the success he had this year.
BlocBoy JB: Memphis native BlocBoy JB's track "Look Alive" featuring Drake has blown up recently and thrown his name into the conversation for one of the biggest rappers of 2018. However, Drake's verse on this song overshadowed JB's verse by a longshot and the song didn't really showcase anything special about the up and coming artist.
Time estimated for cover appearance: 1-2 years
Lil Xan: California native Lil Xan blew up on Youtube with his song "Betrayed". The song would go on to chart high on Billboard and get remixed by Yo Gotti and Rich the Kid. However, other than this song, his catalog is very sparse, he has also made some questionable comments about Tupac Shakur, and his high profile collaborations are limited as well. Lil Xan's buzz seems to be dying down a bit and I'm not sure how he's going to revive the positive hype around his name.
Time estimated for cover appearance: Unclear, I don't think he'll be able to one-up the success of "Betrayed".
Yung Bans: Atlanta native Yung Bans isn't as successful as some of the other members of this list, but as a huge Yung Bans fan, and a firm believer that he can do great things, I think that he has the potential to make his mark on Rap in the next couple years. The 18-year-old has connections to Lyrical Lemonade, No Jumper, Pigeons and Planes, Elevator, XXL and more. His hit song "Lonely" has nearly 10 million views on Youtube and several other songs have racked up millions of plays, views, and streams on several other platforms.
Time estimated for cover appearance: 1-2 years.