Lauren Nicolella
Staff Writer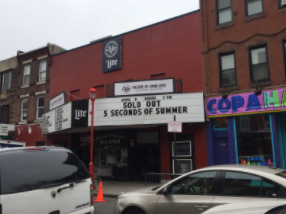 After being on a break for two years to work on their third studio album, 5 Seconds of Summer finally came back with new music, quickly announced a small promotional tour as well. The Australian pop-punk band has been able to boost their career and fan-base by being on tour with other bands such as Hot Chelle Rae (2012) and One Direction (2013-2014).
Their third studio album, Youngblood, was announced to be released on June 22nd.
On Monday, April 9th, 5 Seconds of Summer had a show at Theatre of the Living Arts located on South Street. The venue was general admission, so my friend Sadie Squillaciotti and I intended on getting there earlier than when the doors opened so we could try to get close to the stage. When we arrived, I immediately started to regret buying a ticket.
I had seen 5 Seconds of Summer in 2016, at the BB&T Pavilion in Camden which holds around 25,000 people. Performing at the TLA was a huge change, mainly because the capacity was around a thousand people and fans were very eager to purchase a ticket for the intimate show. Being able to get so close was a huge change compared to the arranged seating at the previous venue.
A score of girls stood in the streets, not being considerate of the moving traffic at all, while concert security kept telling everyone to move on the opposite side of the street. The doors opened at 7, but not everyone was able to line up until 5 since they did not want anyone to get hurt in the process.
When I thought that was the peak of what could go wrong, the band came on a lot later than I expected, but this was likely because they didn't have an opening act.
My friend and I were able to get a pretty good spot in the crowd. I started out on the middle left side and had a nice view of the band. However, our plan to find a good spot to experience the concert backfired as the show started. I've been to plenty of general admission shows before, but this was by far the worst. Every person kept pushing us for no reason at random times during the show. The music went up a bit louder, they pushed. When 5 Seconds of Summer came on, I was worried I was going to fall over.
The band performed 13 songs, with some of their hits and older songs. A main point of the intimate tour was to perform new tracks from their upcoming album, and I was surprised that fans were able to sing along to every word of a new song, and there had only been a few shows beforehand.
At one point I became very overwhelmed during one of the slow hits, Amnesia, as I had been backed into a corner while the temperature of the room suddenly seemed to rise. It was awful, but once everyone calmed down a bit, I moved up against the bar so I could at least steady myself for the rest of the set.
Although a ticket to see 5 Seconds of Summer was only around $40, I can't help but think I could have missed out on this concert. It was great to experience and hear some new songs for the first time, but the fans ruined the experience for myself and my friends