Mo Kelly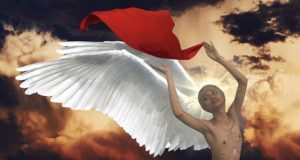 Staff Writer 
Who doesn't love Buzzfeed?
Their light-hearted and spirited videos can relieve Benchmark stress, their oh-so-accurate quizzes can get rid of boredom in class, and their news articles might even teach you something about the world. It's safe to say that Buzzfeed is a staple in many student's lives. So when the SLA community saw one of their own in a Buzzfeed show, that took the school's interest in the site to another level.  
In the fall of 2018, SLA graduate Enthony Chhin was featured on Buzzfeed's new competition game show, Feed Famous. In this five part series, six contestants completed various challenges revolving around modeling and Instagram Photos. Whoever took the best looking photo, won that week's challenge, while the contestant with the worst photo would be eliminated.
Chhin was a class of 2015 student who started to do makeup during their time at SLA.
"Me and my friend would sit by the elevators and she would be doing her makeup. She would always ask me to help her with it and soon, I started to do my moms makeup and my own."
They found out about Feed Famous after scrolling on Youtube and seeing a video calling for people to apply.
"I just thought I might as well submit it, and if nothing happens nothing happens… I wasn't really expecting anything."
Soon after, Chhin got a call from the creators at Buzzfeed asking them to appear on the show. Chhin was ecstatic.
After five weeks of challenges, including prompts such as using no makeup or filters, modeling with toilet paper, and incorporating a box of seemingly random objects, Chhin ended up winning the show, which included a free trip to Los Angeles and have a party with Buzzfeed as a VIP guest. But, their win wasn't met without a fair share of controversy.
Buzzfeed viewers felt that Chhin did not deserve to in the show because they "broke the rules." They took issue with the fact that Chhin used Photoshop in some of their pictures while others didn't have that opportunity or skill. The comment section of the video and Chhin's Instagram were flooded with hate with people calling them annoying and saying they deserved to be kicked out in the first week. It got so bad that Buzzfeed had to turn of the comments on the post where they announced them as the Feed Famous winner.
Despite the hate online, Chhin was sure to look at the bright side of everything, saying the experience gave them a thick skin and that they learned to ignore people who have negative comments.
"It made me realize that no matter what people say about you, it doesn't matter. It was unnecessary drama. The world can be really mean. But, I think it made me a really strong person."
The school community has celebrated Chhin's appearance on the program. Science teacher Tim Best was Chhin's advisor and described them as "a very outgoing, upbeat presence at SLA. You could always count on Enthony to make you smile."
Sophomore Lily Bromley watched Feed Famous over the summer and was excited to learn that Chhin attended SLA.
"It was over the summer and I was really bored. It seemed like it would be interesting because a lot of the challenges were focused on body positivity and I really like art and photography so I thought it would be fun to watch."
Chhin wasn't the only SLA alumni to appear on one of Buzzfeed's videos. In 2017, Buzzfeed held a Queer Prom, where they invited a group of LGBT high school seniors across the country to attend a prom just for them. This was created after some LGBT seniors felt unsafe or weren't allowed to go to their own Senior prom. A class of 2017 SLA student, Otter Jung-Allen was invited to this prom.
Both Chhin and Jung-Allen have made huge marks on the SLA and online community with their creativity and activism.
"I think it's cool that SLA has fostered so many cool and creative people," Bromley said.