Avi Cantor
Staff Writer
To say that Broward County, Florida native XXXTentacion is eclectic is an understatement. The 19-year-old artist draws influence from Nirvana, The Fray, Papa Roach, Kings of Leon, Tupac, Notorious B.I.G, Lil Wayne and Blood on the Dance Floor.
His music is a clear reflection of these influences. Using a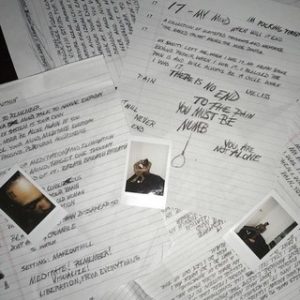 lo-fi blown out aesthetic-where he purposefully lowers the sound quality in the production of his music-he effectively exhibits raw emotion while weaving in and out of genres like hardcore and alternative rock, trap music, indie and even pop. He also addresses a diversity of subject matter including anything from sexual conquest to depression and heartbreak to even gruesome violence. All of these topics form his eclectic image but also play crucial roles in his life.
XXXTentacion also known as just X is a self-proclaimed "pretty boy" who has announced to the world that he is swimming in women who want to engage in sexual acts with him. This "pretty boy" nature stems from his childhood when his mother, despite mentally abusing him on occasion, would comment regularly on how handsome he looked and dress him inexpensive clothing. However, this attention from women has caused some problematic events to occur.
One woman whose identity has been concealed by the Florida police department for legal reasons-that he allegedly dated in May 2017 has pressed a variety of charges against him including aggravated assault of a pregnant woman, domestic battery by strangulation, false imprisonment, and witness tampering. According to the woman, he started abusing her just two weeks after they started dating. Some accusations include him threatening to penetrate her with a barbeque implement, locking her in a room for two days, threatening to kill her, and much more. Unfortunately, this is far from the only run in X has had with the law.
The former member of the XXL Freshman class started acting violently towards others as early as the age of six. He attacked a man who attempted to abuse his mother by biting the flesh off the man's arm while holding a shard of glass over his throat. From there, he was expelled from at least two schools, put into a behavior/correctional facility than a boot camp for nine months, sent to a youth detention center for a year on gun possession charges and during his first stint in an adult prison nearly murdered a man for looking at him while he was changing. X's multiple run-ins with the law were part of the reason that he started to spiral into depression, a concept that he displays frequently in various songs.
X has been releasing songs about depression for much of his three-year career. Many were stunned when X released his first studio album about depression. This may have been due to the success of his chart-topping hit 'Look at Me' that dotted lines like 'can't keep my [penis] in my pants' and 'you put a gun on my mans, Ayy, I put a hole in your parents'. But to X's core fan base, this was no surprise. One song called 'KILL ME (Pain From The Jail Phone)' reveals how he spiraled into depression through heartbreak: "Kill me now, numb the pain, this is just the start, Run away, run away from my broken heart", he moans.
Even though artists' depression in music has been talked about for decades, XXXTentacion turns a new leaf when talking about this disease. Instead of just highlighting his depression, he uses his music to help others deal with their depression. This was one of the main focuses of 17, as explained in an introductory track called "The Explanation".
"Here is my pain and thoughts put into words, I put my all into this, in the hopes that it will help cure or at least numb your depression,".
This line is later punctuated with a three-word statement that allows the listener to live and breath what X is describing. He says 'I love you' at the end of the track with such raw emotion that it solidifies 17 as something more than an album. X is literally illustrating the inner workings of himself as a person.You as a listener are "literally entering [XXXTentacion's] mind".
The next track on the album illustrates the tragic suicide of X's close friend, Jocelyn Flores. Jocelyn Flores is one of the most successful songs off of the album-peaking at No. 31 on the Billboard Hot 100 Chart. The less than two-minute song samples the last clip of music ever released by underground music legend, Shiloh Dynasty, who was rumored to have committed suicide. Shiloh's voice is haunting on the song and sends goosebumps down your arms within seconds. Her vocals matched with X's harrowing story creates one of the most powerful and chilling songs on the album.
But Shiloh's voice wasn't only displayed on Jocelyn Flores. X used two other samples using Shiloh's voice for the songs 'Carry on' and 'Everybody Dies In Their Nightmares'. Both songs appeared on the Billboard Hot 100 Charts.
Then there is the undeniable 'hit record' that every great album has. For 17, that record is 'Fuck Love' featuring Canton, Ohio native Trippie Redd. Trippie's notorious strained vocals pleading "Baby I need you in my life" on the song's hook underpinned by booming 808's create a blend of gut-wrenching heartbreak and catchy club song. This blend immediately launches the song into stardom. 'F**k Love' has racked up over 37 million plays on Soundcloud and peaked in the Top 50 on the Billboard Hot 100 Chart.
According to Hot New Hip Hop, a media outlet for up and coming rappers, 17 by XXXTentacion was expected to sell anywhere from 65,000 to 70,000 copies in its first week. However, due to X's intensely loyal fan base and how much the album resonated with audiences (including rapper Kendrick Lamar), the album sold nearly 90,000 copies in its first week. The project's sales shattered Empire Distribution record for an artist's first-week sales numbers. The album even allowed XXXTentacion to negotiate a six million dollar contract with Capitol Records.