Brendan Hall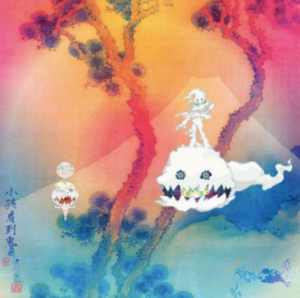 Staff Writer
"Yesterday I checked myself into rehab for depression and suicidal urges. I am not at peace. I haven't been since you've known me." Kid Cudi stated on a Facebook post in 2016.
This became a pivotal moment in the music world. Scott "Kid Cudi" Mescudi has become iconic in the modern music world for being transparent with his mental health struggle. His fanbase is composed of people with similar struggles and some peers, such as Travis Scott, in the music industry even cite him as saving them from suicide.
A notable figure to support Cudi during his stint in rehab was longtime collaborator and friend to Kanye West. West dedicated his performance of their 2016 track "Father Stretch my Hands pt. 1" to Kid Cudi, and announced that he was praying for him.
However, nearly a month later Kanye West was also hospitalized for mental issues and substance abuse. Which was eerily similar to his friend Kid Cudi's hospitalization.
In mid-2017 it was speculated that West and Cudi had been working on a collaborative project together in Japan. Although they had many records together as a duo, music fans were skeptical if their project would live to the standard each artist set for themselves.
In a sense, these music fans were correct because their Kids See Ghosts album didn't meet expectations set for them in the past. It shattered them by giving music listeners one of the most innovative albums in recent memory.
Despite both artists carving a lane in Hip-Hop their joint effort seems to defy the rules of sticking to a particular genre. The instrumentals used on the project sound out of the ordinary from traditional rap music. The majority of the beats are more fitting for a psychedelic band such as Pink Floyd than any contemporary Hip-Hop artist.
Examples of this being successful come in tracks "Freeee" and "Reborn" where the instrumentals are hypnotic to the point where it feels like West and Cudi have created their own universe within the music.
West, who handled most of the instrumentals, was able to use minimalism to perfection on the closing track "Cudi Montage". The entire beat consists of a guitar loop made on an obscure Kurt Cobain song "Burn in the Rain". It provides an atmosphere that's as epic as it is unsettling.
His ear for obscure samples was useful for other tracks such as "Fire" and "4th Dimension" that provide rock samples that complement the tone of the album. Each of these samples further deters their album from being a traditional Hip-Hop project.
Aside from the instrumentals on Kids See Ghosts this album lyrically focuses on West's and Cudi's hunger to find internal peace. They also are open about their mental health throughout the project. Their mutual struggles allow for great chemistry in each of the songs.
Perhaps the strongest display of lyricism comes through in the final verse of the album. "Everybody want world peace 'Til your niece get shot in the dome-piece Then you go and buy your own piece Hopin' it'll help you find your own peace" West raps on "Cudi Montage".
Despite straying away from the themes most present (mental struggles) the lyrics describe how an environment strips away innocence someone. Although it was not explicitly stated it is implied that West rapped this so others would not rush to judgment for those who have made violent mistakes in the past.
This is a direct parallel to how Kanye is perceived as egotistical and crazy many average consumers. However, they tend to overlook physical and mental trauma endured by West such as suffering a nearly fatal car accident in 2002. As well as being recently diagnosed with bipolar disorder and losing his mother in 2008.
Another standout moment with mentioning is the opening song "Feel the Love". Where Kid Cudi is passionately singing his heart out prior to Pusha T's braggadocious verse. The track takes an outrageous turn when Kanye West yells ad-libs over hard hitting drums
In theory, there's no way that should have worked, but it did. The screaming adds to the intense atmosphere and is so unbelievably crazy it sounds as if he's having a mental breakdown.
Finally, after West finishes this display the instrumental has a brief but intense change. It switches to a chord progression that sounds as if it is taking the listener to an alternative human experience. But right when you think the chords are going to be the outro to the track the beat goes back to the initial sound and Cudi gives the same level of passion to end the track.  
While approaching serious topics both artists attempt to find silver linings. On "Reborn" Cudi gives a hook describing how he wants to keep moving forward. Kanye proceeds to directly refer to his hospitalization while also taking a positive attitude towards his bipolar diagnose. ("I was called insane what an awesome thing engulfed in shame")
While the lyrics have substance and the instrumentals are unique the most endearing part is the approach taken while discussing these serious topics. Often it can feel that artists discussing things such as depression are too black and white within their music.
When done poorly it can be seen as a narcissistic way of getting others to sympathize with the artist. On the flipside, it could be an unrealistic way of "inspiring" those who suffer from suicidal tendencies. A prime example of this is Logic's oversimplified suicide hotline song.
Kids See Ghosts isn't a naive attempt to solve mental health with an album. However, Kids See Ghosts is an honest portrayal from two men who struggled with depression. In an era where rappers are exploiting mental illnesses for clout, this is a breath of fresh air.