Lauryn Lewis
Staff Writer
Tory Lanez recently dropped his long-anticipated album, 'Memories Don't Die'. This is his second album to be released since 'I Told You' was a hit back in 2016. While Tory has had plenty of singles on the radio since as well as mixtapes, the 'Say It' singer has been holding out on his fans for the past two years.
During the past two years between albums, he has partnered with one of my favorite artists, Philadelphia rapper Meek Mill. Unfortunately, Meek did not make the album but Tory did manage to snag some other hot artists including, Future, 50 Cent, Fabolous, and a few others.
Here are my thoughts of the tracks on the new album.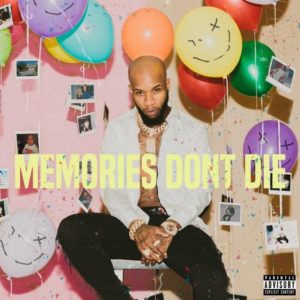 MEMORIES
As the intro, Tory reminisces about how the people around him, treated him before fame. He recalls being made fun of but making a vow to never trade who he was for someone he wasn't.
Old Friends x New Foes
The title for this song is pretty explanatory. Tory uses a very catchy phrase in this song. "Old friends become strangers. New friends become dangerous." The beginning of the song starts off slow but quickly switches up (like his friends) to a fast pace beat where Tory goes off. The song is basically a clapback at all the haters who he once thought were on his side.
Shooters
Shooters is type of song that you put on when you first get in the car to get everyone hype. The song refers to Tory's friends as his "shooters", who are basically willing to do anything for him. While him and his friends are out acting reckless and having a good time, they are also making sure to show everyone else they are the hottest out.
4 Me
I honestly feel like Tory put his heart into this song. He recalls a past relationship where he is constantly doing for his female companion, but she never returns the favors. So instead of continuing this pattern of instability, Tory decides that he is going to start doing for him. The song is probably relatable to anyone who has been in a relationship where one is putting in more effort than the other.
Skrt Skrt
Skrt Skrt will most likely be playing in every club over the Summer. It is everyone's typical record about feeling attracted to someone who is playing around with them. The one thing that makes this song stand out from the others is that it has a very catchy and somewhat calypso beat that will get everyone dancing.
Benevolent
Tory shows his fans and haters in this song that he really has bars. During the three minute and forty-seven second track, Tory barely stops rapping. The song sounds as if it could have been a freestyle over a very nice beat that samples Jay Z's, 'Song Cry', during the last minute fo the song.
Real Thing (Ft. Future)
Both rappers/singers give the world a taste of what it is like to be rich and have hundreds of girls flocking onto you. The real thing is being referred to as being taken care of and spoiled with luxurious gifts.
Hate To Say
This song speaks facts that many are scared to realize or even deny because it won't help them get through the day. Over this soft beat, Tory praises himself for the accomplishments he has made in the past year, and the accomplishments he plans to make in the upcoming years. My favorite part of the song is where Tory gives Philly a shoutout by saying, "Did a song with Meek Milly called it Litty. Really I just did that 'ish for the city in love with Philly." Another interesting thing that he mentions in the song is an altercation that he was almost involved in with rapper, Travis Scott.
B.I.D.
B.I.D. stands for 'Bust it Down'. This is one of the first songs I heard off the album and also my favorite song on album. This is definitely a song that will come on in a party and have everyone lit!
48 Floors (Ft. Mansa)
The first thing that I noticed when I was listening to this song was the beat. The beat really caught me off guard because I didn't expect it to be so vibrant and strong. The song is about Tory Lanez finally getting the girl he wants to go with him to his penthouse that is most likely on the 48th floor. Throughout the song, Tory tells stories about the adventures that him and his lady friend in experienced in his penthouse. Halfway through the song, the beat switches and Mansa starts rapping with a mellow-like voice.
B.B.W.W. x Fake Show
This is what appears to be another freestyle. Tory boasts about all the things he has accomplished during his first few years in the music business. He makes sure to let all the other rappers and singers in the industry know that he has no plans of giving up anytime soon. Fake Show is the second half of the song where the beat becomes dark and Tory speaks on some of his fears as an entertainer.
Dance For Me (Ft. Nav)
When the song first started, it was nothing like I expected it to be. I thought the song was going to be about his relations with a performer. The song is the complete opposite. While it is a little upbeat, it is more heartfelt because he speaks on an issue that is that many entertainers deal with. It seems that he has finally found a girl who isn't after all his luxuries but instead his heart.
Pieces (Ft. 50 Cent)
This was another one of the songs that had a very catchy beat. While I was listening to the song, I felt that it might have been a homage to New York hip-hop. Tory mentioned a few legends from "The Big Apple" and the feature from 50 Cent made it seem even more reasonable. Besides the homage, the song does a really good job of showing Tory's storytelling skills. I expected 50 Cent to have a longer verse but he did good during his little time.
Connection (Ft. Davo, Fabolous & Paloma Ford)
Collaborating was probably the best thing to happen for this song. All the different voices and harmonizing in the song helped it stand out. It is guaranteed that if you listened to the song, you will feel a "connection" from the romantic intention of the song. As always, Fabolous delivered some of the best lyrics on thes song.
Hillside (Ft. Mansa & Wiz Khalifa)
Essentially, the song was confusing to me when I first listened to it. Nav opened for the song and kept repeating a chorus about the hillside and the realside. As Tory and Wiz Khalifa came about in the song, I started to understand that it was about having that one girl who would hold it down and keep it real all the time.
Hypnotized
Hypnotized is probably the only song on the album that is strictly pop with a tad bit of reggae. The entire time that I listened to the song, I was picturing Tory being hypnotized by a girl who he met at the club and could not take his eyes off of and that he eventually started chasing her through the club and out the club. I could see this song on the pop charts in the near future.
Happiness x Tell Me
I absolutely feel in love with this song because of how down to earth it was. It reminded me of Alicia Keys' song, 'You Don't Know My Name'. The setup of the song was basically the same. The interlude of the song was different because while Alicia expressed her attraction for a customer, Tory tells the story of how he found out his mother passes away. During the second part of the song, 'Tell Me', Tory just wants everyone around him to be honest with him.
DON'T DIE
Don't Die has two different meanings in the song. The first meaning would be relating to gun violence and Tory's experience with a family member being shot. The second meaning would be relating to him as an artist and a person. Tory doesn't want to do anything that could possibly end his career because he feels he has so much more to accomplish. He also constantly thinks about how his mother would react if she were here with him which shows how much of an impact she's had on his album.
Overall, Tory did a phenomenal job on this album. I have never listened to one of his albums all the way through before but I am excited that I did with this one. My top three songs on the album would be 'B.I.D.', '48 Floors', and 'Happiness x Tell me'. Those three songs would fall under the categories of party music, sensual music, and heartfelt music. I really appreciate that Tory opened up about a lot in this album including the passing of his mother. I hope that he will continue to be open with his fans through his music because I believe that will not only attract more fans but give them hardships to relate too. I am also looking forward to him collaborating with some more artist (hopefully SZA).