Stokeley Clevon Goulbourne (born April 18, 1996), better known by his stage name Ski Mask The Slump God, is an American recording artist from Broward County, Florida. The up and coming musician is best known for his songs "BabyWipe" and "Catch Me Outside." Both have music videos directed by Cole Bennett, which currently sit with over 40 million views each. Notable collaborations with rapper XXXTentation such as "Take a Step Back" from the mixtape Drown-In-Designer have played a significant role in the growth of his popularity.
Days before it's official release on May 11th, Beware the Book of Eli was leaked by Ski Mask himself (according to Renz Ofiaza of Highsnobiety) in frustration towards his management team. Thirteen songs were attached to that version of the project, while the official release includes only ten tracks. A highly anticipated release in the underground/off-mainstream music world with a wicked cover art and solid duration of 22 minutes. Short-length projects and songs have become a trend for this generation's hip-hop artists to add replay value for streaming purposes and retain appeal to a younger fan base due to their short attention span.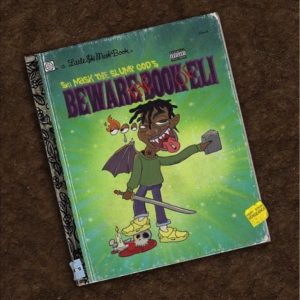 Ski Mask captivates the listener's attention when he fires off rapid lines accompanying a catchy chorus on the intro "LOST SOULS." Rich the Kid makes his first of two appearances adding to the established energy with his popularized ad-libs and complex rhymes in his traditional way. On "RUN," Ski Mask showcases his lyrical ability and perfected/somewhat trademarked rapid-fire flow over an instrumental produced by Timbaland.
A saddening drop-off into a more slower-paced, repetitive, and basic sound from both Ski Mask and Ronny J on "THROWAWAY." Although it's shorter than two minutes, it's excessively mundane, making it unbearable to listen to. Embracing the title, Ski Mask refers to the H&M scandal on "COOLEST MONKEY IN THE JUNGLE," while expressing his feelings towards the potential influences that bred the incident. "And tell the white supremacist to lick my big toe."
Despite the negative connotation the song is themed around, Ski Mask didn't hesitate to address the topic in a way that could bring him criticism. His willingness to engage with controversial topics made this one of my favorite songs from the project, the instrumental is appealing and vocals from both Ski Mask and Sahbabii compliment it seamlessly.
Ski Mask is at his best when he's able to rhyme at a faster pace, so "SUICIDE SEASON" has a slower BPM and I find myself not enjoying the song overall as much. I appreciate the variety the project offers, and I wouldn't say this, or any mellow songs from Ski Mask are bad. "DoIHaveTheSause?" is another favorite of mine, he clears up his claim stating "might be the coolest monkey in the jungle but I'm not baboon (I'm not a baboon). He could simply be stating that he's the most talented, popular, and or praised in the industry.
Branching from his comfort zone, Ski Mask experiments with melodic tones and trades lines with Danny Towers on "GEEKIN," I thoroughly enjoy this song. Interestingly Ski Mask admits to releasing the album before its scheduled date, "I just copped me new ice for the weekend (weekend), and just like my mixtape that b***h leakin' (hey!)."
Returning back to the high energy, on "CHILD'S PLAY" Ski Mask makes references about gaming (Kingdom Hearts), movies (Jaws, The Adventures of Sharkboy and Lavagirl, Child's Play) and the Greek god Poseidon. Ski Masks rapidly lays two verses on the track "DAPPER DAN," to get an idea of how fast-paced it is, the song is one minute and thirty-six seconds. A great song with a memorable chorus and lyrically jam-packed verses.
Overall, Beware the Book of Eli is a different sound than I'm used to listening to. I recommend it for younger listeners with a short attention span or anyone who enjoys hype-rap music. The content is somewhat repetitive, short in length, and randomly peculiar in a way that appeals to many people.