Mekhi Granby
Staff Writer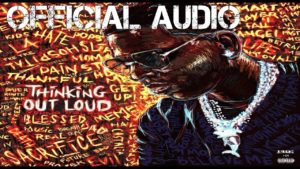 Back in February, recording artist Young Dolph (Adolph Thornton, Jr.) was shot at over one hundred times in Charlotte, North Carolina after finishing his performance at CIAA Weekend. As he was in a bulletproof SUV, none of the shots penetrated and Dolph was left unharmed. The tension between himself and fellow Memphis natives/rappers Yo Gotti (Mario Mims) and signee Blac Youngsta (Samuel Benson) is believed to be the cause of this incident.
Two months later, Dolph dropped studio album "100 Shots" on April 1st, with a tracklist describing the incident and taunting the shooter(s).
Dolph landed in the hospital after being shot at again, this time in Los Angeles, California at a Hollywood mall in late September. He was released from the hospital two weeks later on October 12th and released an album the following week on October 20th. Titled "Thinking Out Loud," the project foresees to be an extraction of Dolph's mind after these near-death experiences. With his life heavily at risk, (God forbid) this could potentially be one of his last projects.
What's the Deal
The intro, classic Dolph over an unusual techno-trap instrumental to open up the album. Doesn't set the tone properly nor serves the mood of the album any justice. A super simple rhyme scheme throughout the song, unable to showcase Dolph's lyrical capabilities. This, along with tracks 4 and 9 are a dumbed-down version of Dolph, I believe to appeal to the masses of today's younger hip-hop/rap audience.
Pacific Ocean
Coming from nothing, Dolph is no stranger to appreciating and flaunting his success. On this track, Dolph rhymes about his position in life, children, material possessions, and abundance of women. His flow makes this one stand out, it's a more lyrical, slower-paced song.
Point Across
Track 3, one of my favorites. Dolph went crazy on this one, the hook is excellent and blends seamlessly with his two verses. An impeccable flow plus an instrumental from Zaytoven creates this amazing addition to the album.
Drippy
Too repetitive for my liking, Dolph's instrumental choice remains up to par but the lyrics and flow lacked on this track. Nothing worth noting here, you can skip this one.
Believe Me
Track 5, along with the visual, is great. Dolph filmed scenes of this video in the hospital while recovering. He reminisces of the journey getting to where he is now, morals about raising his children, and deserving all his blessings on this song.
All of Mine (feat. DRAM)
Track 6 has the best hook on the album. A surprising feature from DRAM provides melodic vocals perfectly complementing Dolph's laid-back flow over a calm instrumental. I replay this song at least once every time it comes on.
Go Get Sum Mo
Track 7, the longest song on the album. Stacked with features, this track includes verses from Gucci Mane, 2 Chainz, and a chorus from Ty Dolla $ign. I like how no one seems out of place, I wonder what the collaborative process looked like. Not one of my favorite songs due to the lack of substance but a great song overall without a doubt.
Thinking Out Loud
Classic Dolph rapping about the usual: drugs, material possessions, women, guns, and money. He brings us directly into his mind, as the title states, expressing his thoughts in the booth. Being one of the more relaxed tracks, I'd recommend this for a kick-back setting or a long drive to sit back and reflect on life.
Eddie Cane
Track 9, pre-outro finishes strong with high-energy and a rapid-fire flow. Some scary movie piano like sounds can be heard throughout this track, the potential nod towards Halloween? Quality production by Buddha Bless supplies listeners with the last turn up song of the album, perfect for a party/club setting. A repetitive hook from Dolph ensures the catchiness of this one.
While U Here
A perfect outro to conclude this spectacular artistry, a track vocalizing the importance of appreciating/honoring your loved ones while they are alive. Reflecting on his lifestyle and becoming more cautious of his actions because of his observant son watching his moves are the highlights of this one.
Young Dolph displays the importance of timing and his determination to his craft with the release of Thinking Out Loud. A tracklist perfectly pieced together makes this great, stepping slightly outside of his comfort zone with multiple features unlike the project before this one. I'd recommend tracks 3, 5, 6, 9 and 10.