Juliana Long
Staff Writer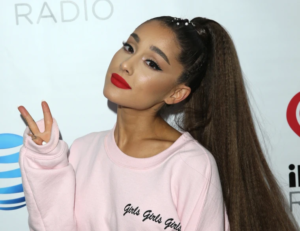 Ariana Grande: At the forefront of pop culture due to her controversy or her success?
Backed up by an extremely strong fanbase, she has been on consistent music release roll since the end of 2018. Grande's fan base and its dedication to the singer is something that speculators have been fascinated by since she rose to popularity.
However, some less die-hard listeners have more conflicted feelings about her. Grande has a history of questionable expressions of art and has been accused of appropriating marginalized cultures in the past. Many fans on-the-fence don't approve of some of her problematic decisions but sympathize with the hardships in her personal life that she's been through recently.
In May of 2017, a suicide bomber committed an attack at Grande's Manchester concert. After the incident, Grande expressed feelings of anxiety, sadness, and guilt. She even revealed that she had begun to experience symptoms of Post Traumatic Stress Disorder.
About a year later, Grande's ex-boyfriend, Mac Miller, was found dead after a suspected drug overdose. Grande faced severe backlash on various social media platforms blaming her for Miller's death, mostly claiming that she shouldn't have ended the relationship if she knew he was struggling with addiction.
Grande's fan base was there with her every step of the way to provide support, and some even choose to support her solely because she has risen out of so much pain. An SLA parent and also an enthusiastic fan of hers, Maureen Long, claims that she is a fan of her because of the silver lining that she manages to embrace.
"She finds positivity in her life, even when things are hard," she said. "She also has an incredible voice and inspiring lyrics."
Alternatively, some people don't like her as a person regardless of what she's been through. The majority of the general dislike is due to Grande's lack of respect towards certain cultures, specifically Japanese and Black cultures. After releasing her new single, 7 rings, on January 18th, not everyone was impressed.
"Her new sound has a lot of trap undertones and roots in black culture," says Maren Lamb, junior at SLA.
This criticism, which claims that Grande uses aspects of black culture to her advantage yet falls short on speaking up about race issues in America, is pretty common throughout critiques of Grande's musical choices.
Grande additionally later received significant backlash over the unveiling of her new tattoo on social media. The tattoo depicts a phrase written in Japanese that translates to "charcoal grill finger". Offended speculators online perceived the tattoo as a symbol of ignorance.
There tends to be a theme within white culture where a white person gets a very random and meaningless phrase tattooed in some sort of Asian language simply because they think it looks cool as opposed to being educated about the language/culture, and Grande's tattoo was perceived as an example of that.
Regardless of the public's opinion on her, Grande continues to consistently release music reflective of her thoughts, feelings, and struggles. Listen to her newest album, Thank U, Next on Spotify here: https://open.spotify.com/album/2fYhqwDWXjbpjaIJPEfKFw?si=VwGaHUYqTQy-Sfvi5WQ8Aw