Lauren Nicolella
Features and Social Media Editor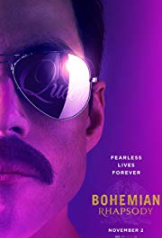 I was practically born with every single lyric of Bohemian Rhapsody engraved into my brain, as well as singing along with the guitar riffs so I was instantly hooked on seeing it regardless of the reviews. I kept mentioning the film to my parents, so it seemed only right that I went out to see the movie for myself
I was in shock when I first saw the tweet that featured the first trailer of Bohemian Rhapsody. Tentatively, I clicked on it, hoping that the songs I'd grown up loving would be included. My eyes lit up when I heard the mashup of Another One Bites the Dust, Bohemian Rhapsody, and We Will Rock You alongside the stunning Rami Malek playing the legend himself, Freddie Mercury.
Bohemian Rhapsody is a biographical film that follows the story of British-rock band Queen, as well as the life of lead singer Freddie Mercury. It's been a highly anticipated movie for nearly ten years and has sparked major interest in both the film and music.
Just like the song, the movie details the tragedies, operatic life, and careers of Freddie Mercury, Brian May, Roger Taylor, and John Deacon. The film emphasized Queen's familial bonds sticking together through hard times. The times were different and the way that they were able to produce such a new take on rock and roll has completely changed the music industry. Queen was so persuasive in the way that they could get a six-minute long song played on the radio, and the emphasis on that struggle and process is what has made me appreciate the song a bit more. I always grew up knowing the songs by Queen but never acknowledged them on a personal level.
I didn't know any details or backstory of Queen beforehand, so it was really special to find out that Freddie and his family are actually from Zanzibar. I also had no idea that Freddie was such an active songwriter for the band because there are countless hit songs that are flawlessly done. Going more in-depth about Freddie's sexuality and getting to see a real representation of him was truly something special that the directors added in. To me, it made Bohemian Rhapsody a more authentic film, because I felt like there was a real connection to Freddie himself and not some Hollywood character that was made up.
My favorite, and also the most emotional part of the movie, was the 1985 Live Aid charity concert at Wembley Stadium.
Days beforehand, I took the time to watch their entire set, knowing from the trailer that it was going to be a vital scene. Being shocked and overwhelmed is an understatement, and I mean that in the best way possible. They did every single thing: the same Pepsi cups, the microphone, the outfit (oh my god, don't get me started on those iconic shiny leotards) and the dance moves. I watched a side by side video, and it really takes a lot of talent to replicate such an iconic performance.
Overall, I enjoyed this movie so much and I highly recommend everyone to go out and watch it, because it certainly has exceeded my expectations. It's given me a new appreciation for Queen and the song Bohemian Rhapsody, and I hope it impacts others in the same way.
Check out the trailer here!