Matthew Milligan
Staff Writer
Last weekend I got the chance to see the latest coming of age movie Love, Simon. A movie adaptation of the young adult book Simon vs. the Homo Sapiens Agenda, what set this story apart from all the other mainstream rom coms directed at teens is the fact that the main character Simon is gay.
Right off the bat this movie got points for me because it featured a gay protagonist. Too often are LGBTQ+ characters swept under the rug or restrained to mildly amusing but still disappointingly shallow side plots. It was refreshing to see a story that revolved solely around a queer character.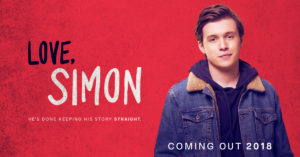 Simon being gay means that he had to deal with a lot of the invisible issues that most LGBTQ+ youth experience every day. When the film began, Simon was still deep within the metaphorical closet and the suffering he experienced was clear. A memorable part of Simon's struggle for me was when he knew he was gay but could not bring himself to say it out loud. Little yet crucial details such as that were peppered in throughout the movie, which were deeply relatable. These events, however, left me wondering how many heterosexual people watching could pick up on those types of things.
Simon's coming out story is beautiful. He has supportive parents (his conversation with his  mom made me tear up), understanding friends, and an anonymous online romance with the mysterious Blue (which is a nickname in case you didn't pick up on that). His coming out story is almost too perfect, which is where my primary issue with the film lies.
Being an aspiring blockbuster hit, the film is a dual-edged sword. Yes, it is great that being gay is being normalized and that stories like these are being told, but at the same time with all mainstream movies there can be a lack of authenticity that takes away from the messages being told. My biggest fear before watching this movie was that it would be a gay movie intended for straight audiences, and my fears have been partially recognized.
I say this because the film spent too much time trying to be a regular teen movie The plot deviates from Simon's sexuality to spend time covering other teenage movie tropes such as drinking at parties or being in a love triangle among straight people. In addition, when compared to the book, Simon is made much more manipulative towards his friends in what I would say is a cheap attempt to create drama. I couldn't help but cringe when watching that overplayed scene where Simon sulked down the hallway to sad music while feeling alone.
I was disappointed when the film  in some ways followed the footsteps of teen movies before it, but it doing so also made me think. What if Love, Simon to an extent was trying to be just like every other highschool movie? What if that was the point, to prove that being gay is just another thing and that we shouldn't make such a fuss about it?
Regardless of the film's intentions I'd have to say that overall I truly did enjoy it. Nick Robinson kills it as Simon and the movie itself has one of the best soundtracks I've ever heard (if you like alternative and electronic you'll agree). Plus, Love, Simon took the step that other movies were afraid to and told a wonderful story about a young gay man coming into his own. If you were thinking about seeing Love, Simon after it "came out" in theaters, you were thinking correctly.