Jayla Wright
Staff Writer
Over the summer I counted down the days until I could see my favorite web-slinging hero, Peter Parker, swing into theatres. Recently on October 17, Spider-Man: Homecoming was released onto DVD.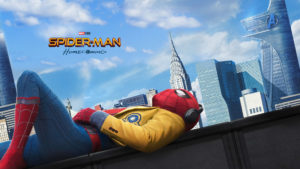 I admit that I may be biased as a Marvel and Spider-Man fan, but I had high expectations for this movie. I went into the movie theatre expecting humor, action, and a diverse cast that actually looks like they could be in high school.
If you are unfamiliar with any of the previous Spider-Man movies or the Marvel Cinematic Universe, Spider-Man: Homecoming is about Peter Parker (Tom Holland) trying to prove himself as a worthy addition to the Avengers, a group tasked with the job of protecting the world from evil doers. At the same time, Peter also faces problems unique to high schoolers, such as talking to his crush, bullies, and detention.
What makes Spider-Man: Homecoming different from the rest of the Spider-Man movies is that it's a fresh take on Spider-Man's origin story. You don't have to watch Peter get bitten by a radioactive spider or see (Spoiler) Uncle Ben die again. In fact, Uncle Ben's name was never even mentioned in the movie.
Unlike past renditions of the heroic wall-crawler (I'm looking at you Andrew Garfield) Tom Holland makes a believable highschooler and an even more believable Peter Parker who delivers sassy one-liners as he webs bad guys.
Tom Holland had big shoes to fill going into the role of Spider-Man, but I think he nailed it. It took three roles and six movies but the wait is over and we now have the perfect Spider-Man. Tobey Maguire played up the shy, nerdy aspects of Peter Parker while Andrew Garfield brought Peter's sarcastic side to light. Holland combined these things together to make a Spider-Man that just feels right the moment he enters the screen.
If you like superhero movies as well as coming of age stories then Spider-Man: Homecoming is the right fit for you. If you're on the fence about this movie due to it being another rebooted Spider-Man movie, go see it anyway! This rendition of Spidey may surprise you.