Eric Valenti
A&E Editor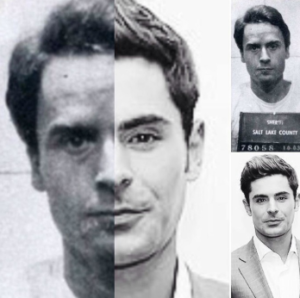 On January 26 of this year, "Conversations with a Killer: The Ted Bundy Tapes" mini-series premiered to Netflix, revealing countless facts and secrets about Bundy and the murders that took place because of him. Two days following the release of the tapes, COTA's film was released at the Sundance Film Festival as "Extremely Wicked," starring Zac Efron as Ted Bundy.
When the trailer was originally released, people had mixed feelings about Efron playing the monstrous Ted Bundy. The trailer depicted Bundy as a misunderstood cool guy with a secret, almost like an action star. This approach is not the first of its kind –there have been many recreations of other murders such as "My Friend Dahmer" and "The Assassination of Versace," which were both quite critically acclaimed. But are these portrayals inaccurate? And if they inaccurate, are they harmful?
Senior Matthew Reed, who is a fan of such shows, doesn't see a problem.
"Making movies off of these people allow us to get an insight into the lives of a killer. You're bringing awareness to people and for all, we know someone could know a person who could do something like this one day. It brings awareness and information," Reed stated.
Dramatizations of these events aren't necessarily bad. There entertaining and they're able to teach people about events that impacted America in such a large way that people felt the need for these stories to be recreated by actors and shown for generations to come. Recreations of these events occur also to show either new evidence that has come up or when a director/writer believes there is a new way to tell these stories.
However, One of the parts of the dramatizations that people forget about is that there not always 100% facts. Some details are added in order to fill the unknown. Senior Shilo Kendall believes that documentaries, and not dramatic re-creations, are the proper way for a person to learn about these events.
"Having tapes or people who are apart of the investigations who were involved in any way with the people are more interesting than a dramatization," she stated. Who cares about what it looks like if you're not actually portraying the facts of the situation?" Kendall stated.
Even some of the younger people of today believe that the dramatizations that are shown on all different types of viewing media actually do more harm than good. If the show is entertaining enough,  viewers may not feel compelled to research these heinous people and their actions.
In the case of  Ted Bundy, he may be seen as a character instead of a criminal, thus making him easy to sympathize with and seem more humane. For example, In "Extremly Wicked" it was noted that because the movie was told in the perspective of Bundy's girlfriend, it displayed Bundy as a father who was being harassed by a court and prevented him from being with his girlfriend and her daughter. The crimes themselves were not as noteworthy in the film but were more just brought up and talked about but not actually shown all that much.
Math TeacherBrad Latimer, who is also a devoted True Crime Podcast listener, stressed the importance of the mindset the viewers have while watching a dramatization.
"I always think about the nature vs nurture thing. What sort of things can impact someone's life that can lead someone down a certain path? What kinds of trauma can people experience when their younger can lead them to go down a path that most don't follow." Latimer stated.
It's difficult to determine whether or not dramatizations are harmful. Some argue that these portrayals of famous killers cause individuals to become demonetized to violence and make people see these murderers as the victim because of the harmful environment that they lived/grew up in. Others believe that portrayals of murders allow people to better understand the time period where these murders took place in order to further their understanding of whether or not a murderer is born or created.
It appears that the biggest thing to understand when watching dramatizations like "Extremely Wicked" is that these people are actors, these are characters that are based on real people and true events, but it's not all facts.