By Leah Kelly and Nomi Martin-Brouillette
Staff Writers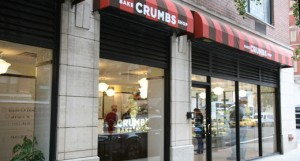 Stumbling upon Crumbs was one of the best discoveries that we have ever made on a Wednesday afternoon prior to our ILP.
Located on 18th Street near Rittenhouse Square, this hip, colorful cupcake bakery has become a favorite of ours. With over twenty different cupcake options as well as cake pops, Crumbs is sure to be able to satisfy your sweet tooth cravings.
Favorite cupcakes include their Red Velvet cupcake with thick cream cheese frosting, "Happy Birthday" which consists of vanilla cake, vanilla frosting, rainbow sprinkles and a thick buttercream filling and "Cookies and Cream", which is a chocolate cupcake with vanilla frosting mixed with Oreo crumbs and topped with an Oreo cookie. If those don't make your mouth water, then I don't know what will.
Another positive aspect about this bakery is the atmosphere. When you walk in, they greet you with a smile and a hello and ask how they may help. With very pleasing decor and a great background music level, your entire experience at Crumbs is sure to be an incredible one.
Atmosphere: Friendly, bright and a good temperature
Service: Ready to help, makes good suggestions about cupcake flavors
Sound Level: Quiet, with good background music
Recommended: Red Velvet, Happy Birthday, Cookies and Cream, Mint Chocolate Chip
Prices: A little pricey, $4 per cupcake, although the cupcakes are huge (bigger than my fist) and filling
Open: Mon-Thurs: 8am-7pm, Fri-Sat: 8am-9pm, Sunday: 10am-7pm