By Jenn Wright and Sam Lovett-Perkins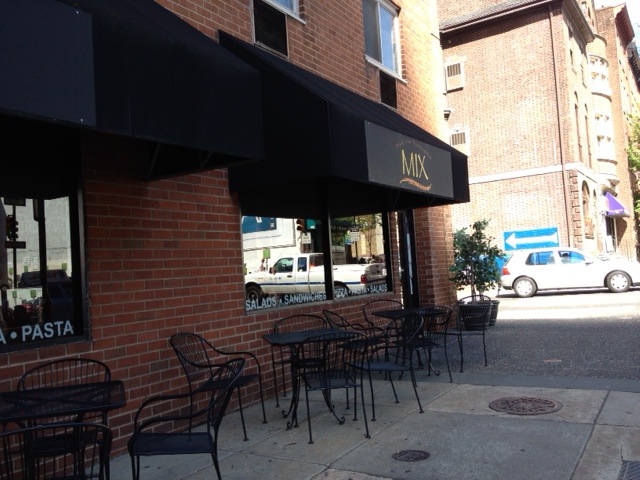 Staff Writers
There is a certain warmth that attracts us over and over again– because as soon as you walk in it is so hot inside Mix Restaurant & Bar.
This is a weekly haunt on Wednesday afternoons for our friends. We've been going to Mix on the regs since freshman year and have let many people in on the not-so-secret spot at 21st and Chestnut.
Sitting outside eating and people watching when it's warm is a delight, and when it's not so warm the inside brick oven makes the place positively toasty. On Wednesday afternoons expect plenty of suits, and after-school on weekdays you might see a few in the good-looking neighboring back room bar.
Mix has the multi-purpose of being a pizza place and a 'real' restaurant depending on the clientele. If you come here after school with a rowdy group of friends, the fastest and most comfortable way is to order at the counter and then choose your seat. Mix definitely has pasta dishes and sandwiches, but we can speak highly only on their behalf about fries, wings and pizza. We've had practically every type of pizza, highlighting the regular buffalo chicken drizzled with hot sauce and bleu cheese or the Hawaiian with pineapple, ham and bacon.
The staff is ghostly at best, but for boisterous high school students this has never been a problem– except if you go in expecting a sit-down meal. There is a certain sense of age-ism when it comes to the quality of service. We have never been offered a menu, not that we wanted one anyway.
So that became the tradition, ordering quid pro quo: they get regular business and we get delicious no fuss pizza and plenty of courtesy cups of water. They never kick us out, but they never talk to us either.
Atmosphere Super hot, the "brick oven" is natural heating
Service Not super attentive, expect to have to signal or ask for attention
Sound Level Lively between lunch and 4, quieter during early dinner
Recommended pizza and wings, any kind
Prices fair but worth it, 2 specialty pizza slices and a soda: $10
Open M-Th lunch to 10pm Fr-Sa lunch to 11:30 Su 10-10