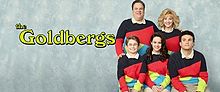 Keith Hodge
Staff Writer
Ladies and Gentlemen, I would like to introduce you to the Goldbergs.
This show is about an average family: one dog, dad, mom, sister, two brothers, and most importantly, grandpop. This family also has something in common with you, They live in Pennsylvania. The show is set in Jenkintown in the 1980s. and well they live in the 1980s.
In honor of the title of the show, I'll introduce you to the family:
Adam Goldberg is the main character of the show,  played by Sean Giambrone. He is a high school student, the youngest child of three, a little bit of a geek. He has this reputation because he likes computers, Dungeons and Dragons, and filming his family's life.
Barry Goldberg is played by Troy Gentile. Is a high school student at William Penn Academy. He is the middle child of three, and is very good at hockey.
Erica Goldberg is played by Hayley Orrantia. Was a high school senior at William Penn Academy, but is now in college. She is the oldest of three, she is very popular in school even though she was a little bit of a geek like her brother Adam when she was younger.
Beverly Goldberg is played by Wendi McLendon-Covey. She is the mother of Adam,Barry and Erica. She likes to go be involved the kids lives and she also really embarrasses them and loves them.
Murray Goldberg is played by Jeff Garlin. He is the father of Adam,Barry and Erica. He is the complete opposite of his wife and always calls his kids " Moron " because his father did the same to him.
Albert " Pops " Solomon is played by George Segal. He is the father of Beverly. He is always seems to be with his grandson Adam, Is laid back and just enjoying retirement.
So now you know the characters now I will tell you how the show works.
Usually it starts out as a normal day with everyone " all buddy buddy " and then one character brings in a problem and says to another character usually " could you help " or " come with me ." The character comes and then something goes wrong, then the character acts upset. Then lastly they hug and make up to some popular 80s music and they say something like this: " I promise I will never do this again."
For example, in the episode "Smother's Day," Barry and Erica forget it is mother day so they make last minute coupons, then Beverly remembers all of the ones from years past so she cashes them in and after that Erica winds up saying something mean to Beverly, she gets upset and after all of that, they make up to a 80's song.   
You should try watching this show, because even though the Goldbergs may live in the 80's and you never experienced a day in that century, you will feel like you are living in the 80's!