Meymey Seng
Staff Writer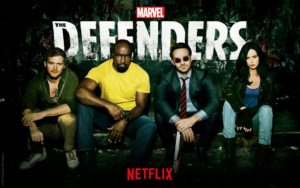 Imagine having four of your favorite characters collaborate and work in the same story. On August 18, 2017, the Defenders came out as the fifth show in the Netflix Marvel series, doing just that. Behind the Defenders, the shows are Daredevil, Jessica Jones, Luke Cage, and Iron Fist.
Each of the characters not only carries different personalities but also abilities. Matt Murdock, or known as Daredevil, is a blind man who has the ability to pick up the slightest of sounds. Some people refer to Jessica Jones as the drunk and super-strong private investigator, which is blunt, yet true. Luke Cage, honestly my favorite of the four, is bulletproof. Lastly, Danny Rand, or called the Iron Fist, is pretty self-explanatory. His right fist can sometimes activate the power of being able to break through very hard objects, such as metal.
The goals of each of the characters are similar, in a sense that they want to help people without actually having to kill people. Their motto is that no matter how cruel someone is, killing them is not something that should happen, even if it seems like the obvious solution. Instead, beating them up brutally is a better alternative. At first, when I watched this, my initial reaction was, "Wow, that is way more painful to live through than actually dying". Then, I realized that that is the whole point. In one of the episodes of Daredevil, he said that he would not kill them because that is "too easy".
Admittedly, the first episode of this series was a bit slow. With the build-up of excitement waiting for the show to come out, this made me nervous. Although I still had a hope that the rest of the episodes would pick up its pace. In my luck, it did. The first episode was basically giving the background story on each of the characters. Even though this is important for people who have not watched all of the episodes, I still think that it was a bit of a drag.
Before watching this show that is about all four of the characters, people should watch the shows that came before that, in order to understand the little connections and jokes that could be easily missed. Towards the end of the episode, Claire Temple showed up. She is a nurse that starred in all of the shows, being one of the few people to know about their abilities. Along with being the nurse, she had a small relationship with Murdock and an ongoing one with Cage.
The first thing that Temple said to Cage was "So, how about that coffee?" This is a reference to the show that means hooking up. Personally, I thought this was a small funny connection to the last episode of Luke Cage. In that last episode, he asked if she wanted coffee, but was then arrested.
After seeing Temple back in the show, I was already more engaged. The second episode was still introducing the character's backgrounds which was okay, I appreciated that the pace was less slow. Very, soon that changes.
Episode three was fantastic! That is what I was waiting for and longingly anticipated. Without knowing, each of the character's had a problem to attend, which so happened to be in the same location. Even though I knew that they were bound to meet, the director and writer were still able to cleverly make it happen it in a way that it was still exciting.
Without giving too much away, a big fight broke out and they slowly realized that they are on the same side. Watching them attack the enemy as a team brought was so nice. During that scene, Luke Cage and Jessica Jones were reunited after not seeing one another for a long time. They used to have an on and off relationship with one another. Seeing them together was very nostalgic. This put me in a difficult situation where I like both Jones and Temple with Cage, it's hard for me to choose my favorite pair.
Aside from my initial reaction, Marvel did not fail my expectations but again, exceeded it.
If you are someone who loves action, comedy, romance, and just great shows overall, you should definitely watch this. Of course, watch the shows that came beforehand first.