Taylor Green
A&E Editor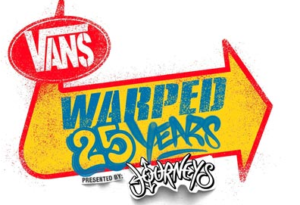 Firefly, Coachella, Made in America, are all festivals that are held in the same place each year. The Vans Warped Tour is one of the few, if not only music festivals that traveled across the country. However, 2018 was their last complete run of the tour. Yet the tour curator Kevin Lyman did hint that there could be a celebration show for the tour in the future.
On December 18th, the official Vans Warped Tour Twitter account announced the dates and primary locations for the 25th- anniversary show. They confirmed that one was being held in Cleveland, Ohio and the others in the east coast, west coast and the midwest.
The account later revealed in January that the east coast show is happening in Atlantic City, New Jersey and the west coast show is happening in Mountain View, California.
The announcement of the shows, of course, caused a few of mixed feelings among fans. People who lived close to these areas were ecstatic, whereas people who are quite a drive away felt as though it was unfair. Many people took to Twitter voicing their opinions, prompting the Warped Tour account to respond and clap back, as well as answer some frequently asked questions.
Another thing that fans took issue with is the fact that tickets had presale before the lineup was even announced. A lot of people didn't understand why someone would want to spend money on a show without knowing who was performing. Other fans countered with going for the experience since this is the last official Warped Tour the performers wouldn't matter and it would be more about the atmosphere.
However, many fans weren't ready to make the commitment and buy a ticket because Warped is a two-day event this year. The locations are also a distance away from some people, so that means that they would have to try and find AirBnBs or hotels to stay at. , of course, Lauren Nicolella shares that with Warped being similar to other festivals this year,  it was more difficult to plan around it. "I was trying to plan with a group of friends to go to the one in Atlantic City, but it turned out to be a lot harder than last year," Nicolella says. "Since it's two days and a bit further away, we had to plan out who would drive, and it's not necessarily easy to get a hotel as an 18-year-old."
Nicolella also shares that it was more difficult trying to secure a ticket this year than last year due to the exclusivity of the event. "There are only three dates, and the Atlantic City one is literally gathering all of the east coast fans since its a central hub for New York, Pennsylvania, Delaware, and other people are willing to travel for something as big as this." She says.
It isn't unheard of that people from different states go to music festivals held in farther locations. For instance, Coachella is held in Indio, California every year. The festival has multiple plans for people who are traveling via driving, Uber, public transportation and even plane. The festival also offers camping plans, which allows the attendee to camp on the desert site, in their car or even hooks them up with hotel rooms close to the desert.
The Vans Warped Tour twitter account realized that many people attending the Atlantic City show would want to stay either on or somewhere near the beach and gave some information out about nearby hotels.
Benjamin Rush High School Senior Justin Stetler bought his Warped Tour tickets during the pre-sale event for the Atlantic City Show. "I, fortunately, was able to afford the pre-sale tickets, and I had a feeling that these tickets were going to sell out fast." Stetler shares.
Stetler's prediction was right, and the Atlantic City show sold out March 8th, seven days after the lineup was announced.
Stetler plans to stay close to the beach for the AC show. He planned to go to the show with a few friends and get a room close to the shore. "I would say that this does make it harder because we have to book a hotel room for 4 days, and that's going to be pretty pricey." Stetler shares.
However, he admits that he'd prefer to splurge more for a two-day event rather than a one day festival like the 2018 Warped Tour. "I am glad that it is a two-day event this year because last year after I left my city's warped tour date, I felt that I needed to go to another date. Unfortunately, I couldn't because of how far the other nearest date was." Stetler says.
It seems like for the final tour, Warped is going out with a bang with what people are calling the best line up yet. Stetler, who is more into metalcore and hardcore wishes there were more heavy bands coming, but it stoked nonetheless. "I'm so excited to see Taking Back Sunday, A Day To Remember, Wage War, Memphis May Fire, Sleeping With Sirens, Blink-182, Hidden In Plain View, The Offspring, Bowling For Soup, Trophy Eyes, and We The Kings," Stetler says, expressing his enthusiasm for the lineup.
Not only does the tour have a spectacular lineup, but there are other attractions as well. For the Cleveland date, the show is going to be at the Rock and Roll Hall of Fame. The Atlantic City show is going to have live wrestling, a human cannonball, and even motocross. The Mountainview date is going to have a Warped Museum, going through the tour's 25-year history.
It's bittersweet to finally be saying goodbye to the famous Warped Tour. The festival has been a wonderful place for fans of alternative music to express themselves freely for over twenty `years. Many fans say it would be nice to see more Warped dates after this year, however, they admit that it would be too good to be true.