Sean Hogan
Staff Writer
On November 13th, 2021, Nerd Street Gamers opened up The Block to the public. I was there at the grand opening. So let me give you the details of the business and what it offers.

About the business

The Block is a place where you can go and play video games on high-end computers, retro and current generation consoles like the Wii, and the Nintendo Switch.
They host tournaments of all types of games, fighting games, first-person shooters, and sports games. They have a small restaurant in the business as well that serves pretty good food like burgers, chicken, etc.

Pricing

Prices are relatively cheap. Playtime is $5 for one hour of game time, which could be on the PCs, Arcade games, and or consoles run at the same $5 per hour price, (you have to pay $2.50 extra if you didn't bring a controller). If you want more hours on the PCs, you can get another hour for $5 or you can get four hours for $17, eight for $30, and a whole twelve hours for $39. They are open on Mondays to Thursdays from 12pm to 10pm, Fridays and Saturdays from 12pm to 12am, and Sundays from 12pm to 10pm.
And you don't have to spend all that time there, the time you have remaining if you leave early stays in your account so you still have that time to spend next time. Also, on Mondays to Fridays from 4-5 if you bring in your School ID you get a free hour of game time.

The Grand Opening

On the first day in November, there was press everywhere, from the Inquirer to CBS News. They were giving away consoles and PCs to random people, and my brother won a brand new Nintendo Switch from a raffle.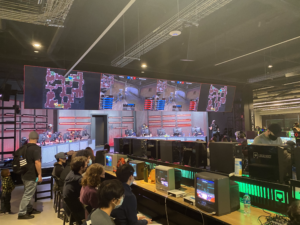 Everyone was screened by a security team because of the number of people that were flooding the line to get in. I was one of the first 250 people in line, so I got a brand new mouse pad for free. There was a tournament for Counter-Strike already going on the stage.

I sat down on a setup and installed Half-Life on it. And I was playing that for a while. I had some computer trouble so they gave me a free hour extra.

There were people everywhere, crowding around the stage, waiting for computers and consoles to open up so they could snag the seat. It was very chaotic, but it felt welcoming after being inside for a year and a half because of the pandemic.

After we attended the event, I asked my brother on his take.

"I think The Block was a cool place and I'd go again." he told me. "I think The Block can introduce students to E-Sports to prevent kids from doing bad things."

Nerd Street did not respond to an interview request.

Possible SLA Connections

With The Block and SLA being so close to each other, there is the possibility for a New Club or an existing one like Smash Club being held at The Block. Also, If students need to work on a lot of school work at one time you can benefit from using a fast computer with high-speed internet.

Utilizing the free hour you get with your school id, you wouldn't have to spend a dime! Or you and a group of friends can go and have a blast playing video games together after-school!