Amelia Benamara
Staff Writer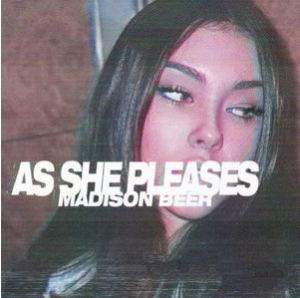 Throughout the month of January, singer Madison Beer teased her fans with short clips from music videos from her first album, until she announced the official release of As She Pleases on February 2, 2018.
Beer described 2018 as her "year to shine" after the release of her songs, Dead and Say it to My Face in late 2017. These songs amassed her 9 million followers at that time.  
The emerging singer leaped to fame after teen heartthrob Justin Bieber discovered her talent. On 17th July of 2012, Bieber tweeted a link to Madison's YouTube channel where she published her cover of 'At Last' by Etta Jones,  stating "Wow. 13 years old! She can sing. Great Job."
Within weeks, the young talent was signed a recording contract with Island Records. Since then, Beer has released a handful of singles and garnered national acclaim.
Although Madison was happy with her new life that gained an audience, hate was also being spread through social media.
Fans accused Beer of gaining all of her fame because of Justin Bieber, rather than having actual talent. However, as the years pass, through social media, the world had witnessed the Madison Beer's growth. Just as she captured Bieber's attention, her musical talent continued to attract other artists.
Fresh in the industry, the then 13-year-old artist was given the opportunity to provide vocals for the song, We Are Creature High.
Since then, she has worked with the Australian singer, Cody Simpson, Norwegian singer-songwriter, Ina Wroldsen, and many more. Some of her hit songs, starting in 2014, include 'Unbreakable', 'All for Love' and 'I Won't Let You Walk Away'. Madison is also an instrumentalist equipped with the ability to play the guitar, drums, and piano.
This year, after her album release, Beer is expected to complete her first tour ever, around the world. She will be performing As She Pleases in countries like Nottingham, UK; Dublin, Ireland; and of course around the US in California, Texas, Denver, and San Diego.
Seven tracks are included in her album, Dead, Fool, Heartless, Home with me, Teenager in Love, and last but not least, Say it to my Face.
When hearing Beer's new music, most of the lyrics in her songs fall under heartbreak and regaining one's' self. This maybe ties to the title of the album itself, As She Pleases, with an independent tone to feminists including herself.
As most artists set their album titles as one of the songs within the album, Madison took a completely different approach and invented her own title — perhaps the moral purpose of her seven tracks.
As Madison matures, her songs grow with her as well. Comparing one of her songs Melodies to Say it to my Face, you hear her tone change with pure confidence as a now young adult.
From 13-year-old rookie to the music business to a 19-year-old with a hit album and an ongoing tour, Beer's career has risen exponentially.