Kai Bradley-Gutierrez de Teran
Staff Writer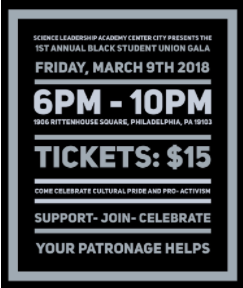 The shortest month of them all is February, and that's also Black History Month. With an African American History course and English classes that read plenty of Black authors, Science Leadership Academy Center City does a lot to celebrate African American culture. But is it enough?
Senior Ajanae Mills said that while she thinks SLA could do more., She recognizes that the school  "Strives to educate people about issues that may affect certain minority groups." She then added, "I don't think they [SLA teachers and the administration] effectively talk about it [BHM] in classrooms. Instead, I think it is suppressed due to students who may have an opposing opinion about the way Black people decide to celebrate BHM, and the education they decide to give to people."
A big part of any Black History Month program is the celebration of African Americans and their joy of being part of such a group. It is coming together and acknowledging all the suffering that they have suffered as a group, a continue to do so. A typical part that many people will talk about is their "Black Joy Story." A Black Joy Story is a story of when an African American was happy and embraced themselves as an African American.
For Mills, her Black Joy started "When I started to embrace myself and Black people, and what they have to offer to America."
Another Black Joy story was when she started to go to poetry, where she says a majority of their focus is on Black issues and Black people. She said that this "Was when I was really able to coincide with my race and enjoy being Black for what it is."
Sophmore Sanaa Scott-Wheeler said that her Black Joy Story would occur at her elementary and middle school when she was able to connect with Black community members who came into her school as she says they were able to connect because of their race. She stated that her elementary and middle school were predominantly white.
Scott-Wheeler felt that the reason for a lack of celebration had to do with a lack of interest on the part of the student body.
"Only a certain amount of people seem to really care about BHM, so I don't know if we can make the rest of the school care."
Scott-Wheeler noted that, in response to this, the Black Student Union is planning a citywide gala, which will be held on March 9th from 6 pm to 9 pm at the Philadelphia Ethical Society.  The event will be attended by Black Student Unions from across Philadelphia. FIve speakers are expected to speak for 30 minutes, and the SLA Center City Black Student Union will be performing a step routine.
She hopes the gala will be good for bringing attention to BHM, and all that it means and could become.
Nate felt that BSU should be taking more charge at SLA and that what they are doing is on the right path. He says that "As a diverse school more action should be taken, one way could be events."
What will happen to Black History Month and how it is celebrated in the future is yet to know. Perhaps these SLA students and Black Student Union will shape the celebration of BHM for the history.