Zoe Kwasnicki
Staff Writer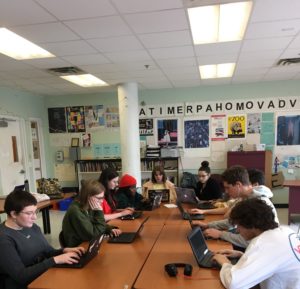 The classroom was quiet except for the sound of fingers hitting keyboards and sighs of exasperation when the Wifi lagged. There was no pen on paper or squeaking erasers scratching away wrong answers because there was no paper – only laptops.
Even though this picture paints a normal day at SLA, student laptops are still nonexistent in the majority of high schools across America. So why does SLA have them?
Principal Chris Lehmann founded SLA in 2006 and expressed his belief in the importance of a 1:1 computer program between students.
"Fundamentally I think it's incredibly important that we create schools that reflect the era in which we live." He continued, "We live in a moment where the tools of inquiry, the tools of creation and publishing, the tools of networking and basically all of our core values are enhanced when kids have access to the modern tools of technology – specifically laptops as sort of the primary example of that."
The laptops were always a major part of Mr. Lehmann's vision for the school. However the laptops that would actually be used were a point of uncertainty.
The laptops needed to last for four years while being used extensively and also be a reasonable, fundable cost. Multiple options were considered one of which was, to Lehmann's dismay, a Linux laptop which is a painfully basic PC laptop.
However, after encouragement by the School District of Philadelphia, it was decided that SLA would operate on Macbooks from Apple. This encouragement was due to the fact that the Microsoft School of the Future was going to operate on a 1:1 program. Although they would be utilizing Microsoft laptops instead – the School District was excited about the opportunity to run an Apple-based 1:1 program and a Microsoft-based 1:1 program at the same time.
However where the School of the Future and Microsoft had a partnership, SLA and Apple did not. SLA privately funded the cost of laptops which was roughly $180,000 annually – no small sum for a public high school in Philadelphia. Macbooks were in use at SLA from 2006 to 2013 when, due to financial issues within the School District, the fundraising money went to securing multiple faculty positions instead.
At that point Mr. Lehmann stated that SLA was approached by Dell, "Dell approached us, and said, 'We want to talk to you about using the Dell Chromebook,' and you know it was a wonderful moment in time because we needed a better solution and one that was sustainable. And not only was it more financially advantageous long term but because Dell really was so excited about what we do here, we got the partnership, which paid for multiple years of the laptops where we weren't even worrying about that as a budget item because Dell paid for it."
The partnership paid for a few years of laptops and now SLA is back to privately fundraising for the laptops which is roughly $45,000 annually – a significant price drop from fundraising for Macbooks. However, that price could drop even further with added financial support from the School District. Mr. Lehmann stated that, due to continued interest in the 1:1 learning model, the School District provided the funds for this year's round of laptops although it has not yet been determined if that is financially sustainable for the District itself.
With the funding of the laptops generally secured, the next question is how the laptops are protected. The warranty is folded into the overall cost of the Chromebooks each year and covers 4-years of non-physical damages. Physical damages are, as defined by SLA's in-house technology consultant and fix-it man Mr. Stephen Jones, a damage caused by a student either purposefully or accidentally. For example, if you accidentally spill a cup of water on your laptop that counts as a physical damage and isn't covered by Dell's warranty.
On the flip-side, a non-physical damage would be your laptop suddenly shutting down without you tampering with it. However just because a laptop is not covered by the warranty does not mean it is out of commission.
"I can fix anything…So there's not any type of thing I can't fix, but there are things I don't fix seeing as – when it's under warranty – I can send it back – anything else I can pretty much fix – if I have the parts I can fix it," Mr. Jones explained.
After 4-years of being in constant use by a student at both school and home, the majority of laptops are out of commission. Those that are still operational are used as loaners for students whose laptops are under repair. Lehmann explained that they try to keep a quota of around 75 loaners so that students always have a laptop to work on as the lack of a laptops at SLA almost immediately excludes you from participating in class. However as the loaners are no longer covered by Dell's warranty, when they give out and are unable to be repaired they salvaged for parts by Mr. Jones which are then used for quick repairs on other laptops. Any laptops that cannot be salvaged are determined to be obsolete and are removed from the school. What happens to the equipment after that point is unknown.
But while Chromebooks are operational and in-use at SLA they act as an important tool that increases efficiency by improving on the teacher-student pipeline of information. As sophomore Isabella Torres said,
"If we didn't have chromebooks at SLA it would make things a lot harder and I would be a lot more disorganized than I already am," Sophomore Isabella Torres stated. "Having a chromebook helps me be organized because everything is on my laptop already. I can just pull up docs, I can do assignments on Canvas and stuff like that whereas if I had books and papers to turn in – it would be a complete mess."
Because students rely so heavily on their Chromebooks they are starkly aware of how lucky they are to have them.
"Not everyone has that type of opportunity to get technology of their own to help their education," Sophomore Cameryn Roach stated.