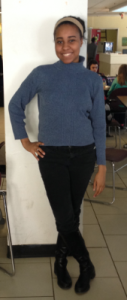 By Zoe Schwingel-Sauer
Sweater: Unknown
Jeans: Banana Republic
What is the most important part of an outfit?
The most important part? I think the boots are. You can really change an entire look around with a good pair a boots or shoes.
What is a must have accessory?
Scarves are cool!
What's your favorite store and why?
I don't have a favorite store. I like looking several different shops and putting something together based on that.