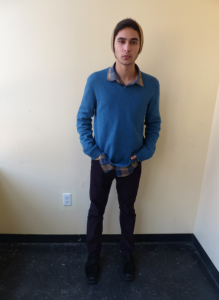 By Zoe Schwingel-Sauer
Shirt: GAP
Pants: GAP
Sweater & Shoes: Unknown
What spring trend are you most looking forward to?
I'm most looking forward to the fair colors and monochromatic outfits.
If you designed a collection, what would be your inspiration?
My inspiration for a collection would have to be Reading Terminal – eclectic and colorful!
What celebrity do you think has the best style?
As of right now, Lupita Nyong'o is #1 on my best dressed list! She's absolutely poised in every manner.