Lily Bromley
Staff Writer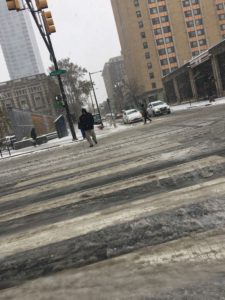 As a result, many students and staff had a complicated and potentially unsafe afternoon commute. Sophomore Mo Kelly had to walk home when her bus stopped running.
"If I was walking home it would usually take me 20 min but it was snowing and freezing so it took me half an hour," Kelly explained.
Luckily, Kelly lives close to SLA, so her commute wasn't unbearable. However, numerous canceled or delayed SEPTA transit options created a huge inconvenience for students who live farther away.
Northeast Philadelphia native,  Charnay Kirkland had an especially hard time getting home.
"It usually takes me about an hour to get home, but that day it took two hours," Kirkland stated.
Kirkland takes the 20 bus and said that that day public transportation was extremely crowded.
Sophomore Shawn Golden said that due to the delays in public transportation, she had some communication errors with her parents and that Septa was late to pick her up.
"I had to wait an hour and a half for the train, and when it finally came it was packed," Golden said.
Golden also noted that since the city had not put down salt, the sidewalk and roads were icy.
Some students expressed frustration that the school did not close early. SLA Principal Chris Lehmann explained that…
Snow forecasts in Philadelphia are notoriously unpredictable, so it's hard for schools to decide when snow days or early dismissals are necessary. November was a perfect example.
Most students and commuters have adjusted to these inconveniences, and accept the reality of public transit.
"Every time there is a snow storm I just know not to count on Septa".