Taylor Green
Staff Writer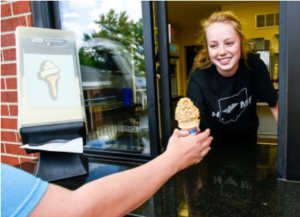 With events like prom, senior pictures, class trips or just hanging out with friends, high school can be one of the most expensive years of a teenager's life.
There are many reasons why teens want to be able to make their own money, the main one being that they don't want to depend on their parents as much.
Junior Dayanna Hughes voiced her need for financial independence and why such independence is important.  
"I needed money and my parents couldn't always give it to me because they're in a financial gap. I felt bad asking them for their money because my dad is off for work sometimes due to medical problems and my mother had to step up and work more," Hughes explained.
She decided that the best way for her to make money was for her to get a job. However, getting a job at 17 is easier said than done.
"I applied to over ten jobs, maybe even more. I applied to places like GAP, Banana Republic, and other retail stores," Hughes said.
She continued by explaining that most of the jobs she applied for didn't respond back.
"For the most part, I didn't hear anything back from places unless I called them," Hughes shared.
However, she did hear back from one job, but she admits that the callback didn't seem genuine, almost as if she were an afterthought.
"I only heard back from GAP, but even with that, I heard back from them late. They called me for a phone interview during the evening and I thought that was strange considering phone interviews usually happen during the morning or afternoon," Hughes described
Another conflict that teens face when trying to find a job is meeting the requirements for the strict dress codes and other regulations that limit teens from wearing what they like.
"I scheduled an interview with GAP but I looked more into the job before I went. I learned that they had a lot of restrictions that would be difficult to work around, such as having to wear formal clothes all the time or not being able to wear my hair a certain way like in braids," Hughes shared.
Fellow Junior Julia Hood also spoke about a difficult dress code that some of her coworkers and interviewees faced that when she worked at Rita's Water Ice in the spring of 2016
"They wouldn't hire you if you had piercings other than earrings or a simple nose ring," Hood explained.
However, the most difficult obstacle for teens to overcome when it comes to getting jobs is their age.
"A lot of places don't hire teens and if they do, you need a referral from someone really important within that business. It could stem from the fact that teens can't work certain hours due to school or that the business thinks someone older will do the job better. If that's the case, then it isn't fair," Hood shared.
Although the search for a job is a dreary road, it is possible for teens to get a job. They just have to be determined enough to find one.
"It took me a little over a month to find a job. I didn't get discouraged when places didn't call me back. I just kept applying. I eventually got a job at Doc Bresler's where I scan charts and file them," Hood described.
Overall, finding a job is difficult but all the effort that you put into it really pays off in the end.
"I've had my job at Five Below since November of 2017. I applied through Snagajob.com and I called back a few days later. It's a draining process, but it is definitely worth it," Hughes revealed.