Faryn Heffner
Staff Writer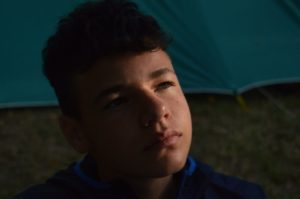 Being a new student at a new school is very tough, I'm experiencing it myself. But coming from a different part of the world, seems to be much more challenging — and yet many students come to SLA this way each year.
Daniele Fiorenza, also known as Dani, is an exchange student from the town of Pollena Trocchia in Italy. Fiorenza  is currently a senior, and getting to know the ropes in his new environment.  
"There are many differences between Italian and American school system. I figured these differences out my first few weeks. In Italy, the way to teach is static," said  Fiorenza.
"The teacher is just explaining things and we practice at home with homework. The way that people are teaching here is interactive, students are supposed to talk every class. I really like the way teachers teach here".
He feels as if the teaching at SLA is more enjoyable and kids seem to want to do their work. He also likes the relationship between teachers and students here, they are always very helpful.
"I think that in my home school, kids are not enjoying coming to school to learn". Fiorenza feels that school is a commitment.
"The teachers in Italy are older than the teachers here. The relationship between the students and the teacher is very formal. Here you can email your teacher whenever you need and every teacher is always available."
Benchmark season is almost over, but Fiorenza reports that the benchmarks help him understand why he is learning this material and why he can use it in the future.
"Another thing that I love is the way I'm working. I'll give you an example, I'm in Algebra 2 and we are doing a benchmark. In Italy I used to say very often, 'why am I studying this? what do I need this for in my life?'  With this benchmark, I'm figuring out what I need those things for."
Fiorenza also mentioned that there are many difficulties that come with this change in lifestyle.
Waking up early in the morning and using public transportation has been a challenge for Fiorenza. He was also surprised that the bus was free so he could go anywhere he wanted during the week.
Outside of school, Fiorenza and enjoys making new friends. He also enjoys listening to music and spending time with his brother, and this fall he played on the boys soccer team.
Senior Amelia Benamara is in Fiorenza's advisory, and she gave some good advice so it is easier for him to adjust to the SLA community and to Philadelphia.
"He can meet new people to create lifelong memories with and to keep in touch with those certain people just in case he ever comes back to philly to visit everyone again."
She also mentioned that staying open minded to the Philly culture because it is so different from the italian culture will be helpful for him too.
Benamara reported that Fiorenza definitely seems to be fitting in with the community at SLA.
"I think he is very close with the other students especially the boys on the soccer team because he was a part of that team. He is also really interacting with the foreign kids such as from Poland and Spain".
Being away from home has reminded Fiorenza about what he values most, which is his family. He is very thankful for this opportunity.
"This experience makes you understand many things. I'm figuring out how important my family is to me and to always count on yourself in life too. In my opinion, this is an amazing experience, it is an opportunity to learn English better and I think I'm going to remember this trip all my life".