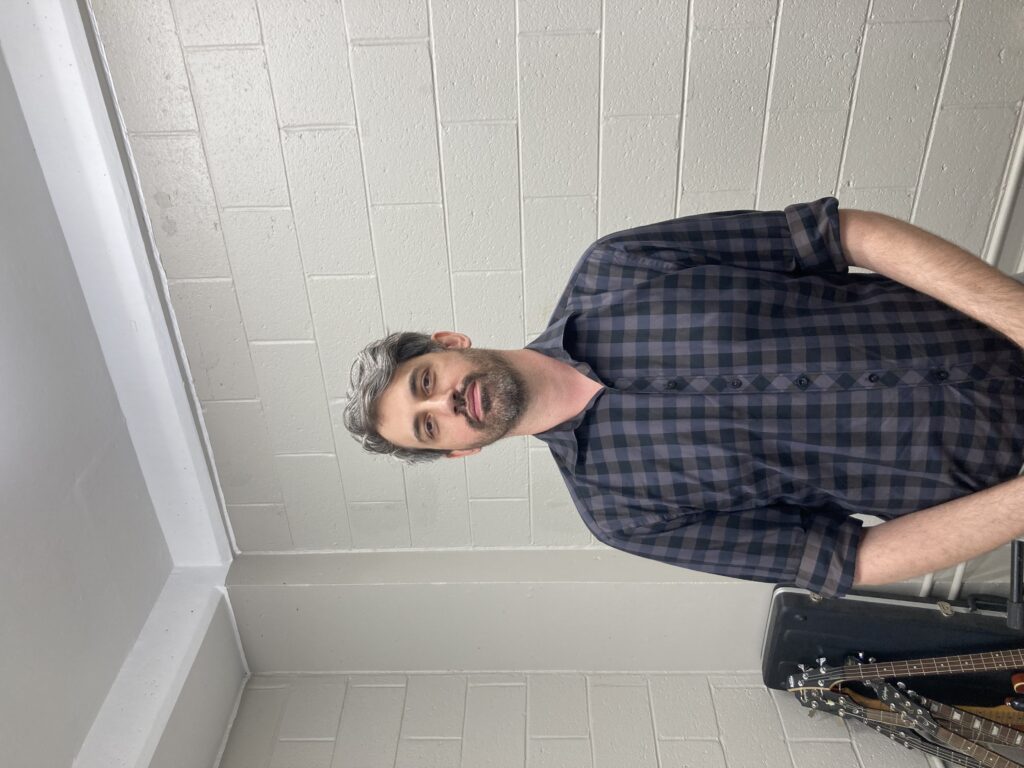 By Marcus Diemer and Oskar Glahn
Though he is only here twice a week, Music Teacher Matthew Roberts stands out — at 6'8", he stands well over the tallest students at SLA. 
In addition to his height, Mr. Roberts has depth in the variety of his work and life experiences. After years of musical experience, Mr. Roberts has big goals to improve staff/student relationships and inspire those in his classroom through music. His current role as an itinerant music teacher has him giving lessons at multiple schools across Philadelphia.

Upbringing 
Mr. Roberts spent his early years living in Staten Island, one of the five boroughs of New York City. He faced challenges growing up in a rough neighborhood, and eventually his family moved to Lansdale, Pennsylvania when he was seven years old. He recalls that the environment as well as the school systems there were drastically better. He found his passion for music living there while attending a school in the North Penn school district. 
Music was always present in Mr. Robert's life; both of his parents were classical musicians and his father was a choir director as well as a composer, and his mother sang in a choir. He branched out in high school and experimented with some different genres. 
"I got into some jazz, and rock was still pretty big back then so I was in a few rock bands," he stated.  He majored in music at Temple University here in Philadelphia, and has lived in the city since 1994, and focused on building his career. 
"I pushed everything away and really focused on music. I thought I was going to be an orchestra player. I auditioned for the Philadelphia Orchestra (to play upright bass) and 250 people showed up, just for a spot on the sublist," he recalled. After that, for years on end, he continued to practice music. 
He did some gigs around the city, and was a part of the Allentown Symphony Orchestra as well as the Reading symphony. He also taught many private lessons, but struggled to make a steady income from music, and eventually came around to the idea of becoming a classroom music teacher. He says that he found it to be a lot of fun working with kids and to be able to give them inspiration through his passion. He finds happiness through being able to positively influence youth and see them grow.

Outside of the Workplace
Although Mr. Roberts is often very busy teaching music at six different schools here in Philadelphia, he does manage to find time for his other interests. 
"Something I never thought I would get into is spirituality," he remarked, though he seemed reluctant to talk about it at a public school. He admits he is still "trying to figure everything out" in life, but spirituality is helping him on that journey. 
He also mentioned that he is fascinated by cars. "I like to study up on cars, as well as buy different cars that come by and sell them." 
Mr. Roberts is also working on becoming a landlord, which helps make ends meet as a teacher. "I've got a few properties and am doing some landlording and stuff on the side," he explained.
Making a Difference

Mr. Roberts states that he taught at CAPA and Masterman, but chose to come teach at the neighborhood schools anticipating that the public school kids would really savor music class. He looks to provide an outlet for his students here at Science Leadership Academy. His teaching has been well received by the students here.
"I really like how relaxing his class is," remarked sophomore Anna Diemer, who is in the music elective
"We are really happy to have Mr. Roberts and we can't wait to see what he and our SLA students create!" stated Principal Chris Lehmann.