Brendan Hall
Staff Writer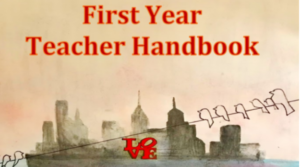 Language is an essential element of communication. An environment of language can create slang words that are unexplainable to those outside of the environment. What happens when someone tries to explain these words?
On August 17, 2018, first-year teachers in the Philadelphia School District received a handbook to understand Philadelphia slang. It was created by Philadelphia Virtual School student Khalid Abogourin, SLA junior Horace Ryans III, and Masterman student Alfredo Pratico within the Philadelphia District. This handbook created controversy within the teacher and students within the school district.
The handbook got a lot of media attention when it was first published sources such as CBS Local and 6ABC picked up on the story.
Junior Horace Ryans explained that students interning for the School District were assigned to create a new teacher handbook with full creative control, as long as it reflected Philadelphia teachers and students.
"The controversy behind it was that it was a book solely on Philadelphia slang. And a lot of people, many administrators in the school district, principals, and teachers had a problem with it because they thought it was dumbing down education and they thought the book was created to have teachers talk like their student," Ryans stated.
Ryans further elaborated that their intention was to bridge a gap between teachers and students than to have using slang words in class.
However, not everybody at SLA thinks the handbook is especially helpful.
History teacher Daniel Symonds argued against the handbook because he believed that only a certain demographic knowing slang is what keeps language nuanced.
"Horace and whoever wrote this list is giving away magic tricks… What's been done is we just read the epitaph for the word "jawn."If every old-head in Philly knows what the word jawn is, it's dying," he explained.
"If I know what a word means then it's not cool anymore,"
Similarly to Mr. Symonds, SLA senior Ameer Johnson argues against the usage of a handbook.
"I think it's unnecessary… I don't think most language in the handbook Philly teachers are gonna need," he stated."Unless they're overhearing a conversation that kids are having outside of the classroom. Most students don't usually talk like that when they raise their hands in class."
Could the handbook help bridge the gap between students and teachers?
"I don't think you need to have it in writing… I feel like it's kind of forced if you're putting jawn or cheesesteak on a piece of paper," Johnson continued.
"A better way to make a community is just asking kids 'oh what does this mean' it's more real like that instead of teachers trying to start a conversation with jawn."