Meymey Seng
Staff Writer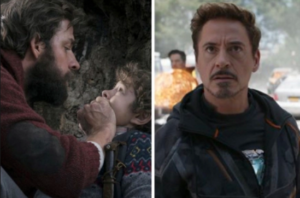 The Class of 2019 was able to have their night of glitz and glamor on April 26th: this year's Junior prom was at the IATSE Ballroom in South Philadelphia, totaling the most amount of students to attend junior prom: 110. Days of preparation finally paid off as hair, dresses, and makeup became flawless and everyone danced the night away.
Physical Education Teacher Pia Martin organized an event that would allow students to pay $7 in advance in order to watch The Avengers: Infinity War on the day it released. Not only that, it would be held at the Roxy Theatre in Center City, where the building would be solely for the SLA Students. Although, there were a few changes to this- some good and some bad.
On the day before prom, students received an email that the tickets for the movie would actually be free, which strikes the students has good news. When students gathered with one another to go to the movies, the projector ended up not working, and the movie was not able to be played.
Luckily, The Quiet Place was able to work which students were able to watch instead. Although, since it is a scary movie, students were given an ultimatum whether they leave without their friends, or stay and watch the horror movie. Some stayed to enjoy the popular movie together while others decided to go home.
Junior Chloe Hart was excited to watch the new Marvel movie but decided to not stay to watch the replacement movie. "I would not have been as excited if it wasn't a Marvel movie and I was annoyed that the movie didn't work out, but it was nice that they offered a discounted movie the next day." In place of the movie, she went to Shake Shack which is similar to what the juniors who did not go did instead.
Close to prom were restaurants such as Oregon Diner and Miller's Ale House. Students joined one another in large groups to go. "As a group of about ten people, we went to eat at Miller's. I personally wanted to go to the movies, however, I simply couldn't find a ride to there that late at night," said Junior Amelia Benamara. "If it took place in the movie theatre a couple blocks from prom, it would've worked out better."
Other students, although only a small handful, decided to call it a night and go home afterward, especially since there was school the next day. "The movie ends at around three in the morning and it's hard to find a ride around that time, especially since I'm planning on going to school the next morning," said Junior Cynthia To.
Whether it was to go out to eat, go to the movies, or simply go home, the students after junior prom were able to find a good way to end the night.