Matthew Milligan
Staff Writer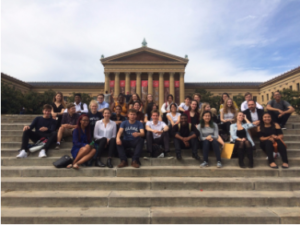 Early in November, it was announced that Science Leadership Academy would be continuing its exchange program to Frankfurt, Germany in the Spring.
The program, nicknamed SLAmbassadors, will take ten students to Gymnasium Riedberg high school where they will be hosted by German students. After a successful first year of participating in the program, SLA is ready to go again — and this time with a second destination added.
Formation
SLAmbassadors was created after Principal Chris Lehmann was contacted by Citizens Diplomacy International, an office whose goal is to connect the people of Philadelphia to the international community of the world. The exchange was inspired by the recent sister city relationship formed between Philadelphia and Frankfurt.
When asked why SLA was asked to be part of the exchange, English teacher Larissa Pahomov answered simply:  "They thought we would say yes."
Upon Mr. Lehmann's agreement, Ms. Pahomov was asked to coordinate and chaperone the trip because she holds the position as SLA's official German language teacher. History teacher Daniel Symonds volunteered to chaperone the trip as well. Their responsibilities included picking which applicants would get to go, fundraising money for the trip, and holding meetings for further planning for the exchange.
"While we're here, it's a real labor of love because it just takes time," said Ms. Pahomov.
Given that only a small pool of applicants are chosen for the exchange, the program has a slight competitive edge to it. When asked about why a smaller group of students are chosen Ms. Pahomov explained that, "It is more personal with a smaller group so the experience is  more valuable."
Becoming a SLAmbassador
Similarly to this year, students last year had to fill out an online survey in order to be considered for the trip. The survey was posted in the advisory memo and all students were encouraged to join.
Juniors and former SLAmbassadors Ashley De La Cruz and  Miguel Rivera thought that the trip would be a good opportunity and were both selected for the 2017 trip.
"I could practice my German speaking skills and I thought it would be a good opportunity to travel to another place outside of the U.S," De La Cruz said.
Rivera commented,  "I like to travel and experience new things."
Knowing that the trip had many applicants with limited spots, both students felt fortunate for the opportunity given to them.
"I felt very lucky. I always knew that a lot of people were applying to it so I didn't set my goal for it," Rivera stated.
Last Year's Trip
Students who went to Germany last Spring said nothing but good things about the program. Though some were initially nervous, once they got to Germany they quickly became comfortable with their hosts.
"Any interaction with a new person was weird at first. Some of the customs over there are a little bit different than over here but they are similar," Rivera stated.
"It was amazing. At first, just thinking about living with another family that you didn't know kind of made me nervous in a way," said De la Cruz.
Credit for the quick comfort that everyone fell into could in part be given to the German host school, Gymnasium Riedberg. 
"What is great about our program is that we have a really excellent partner school," Ms. Pahomov stated, "They're organized, they did a great program when we visited last April, and they really, in a good way, set the bar high for what we would do when we would return the hosting."
When in Germany, both American and German students worked on a collaborative project. This project, which took the form of a video, allowed students to research Frankfurt's history and culture.
The trip in its entirety proved to be educational and eye-opening for both groups of students.
"Getting there, it was just like a wake-up call, they were just like us,"  De La Cruz stated.
"I learned to be more empathetic to others. I learned how not to be afraid of new people or new experiences," said Rivera.
"The program has exceeded my expectations," Ms. Pahomov commented.
Expansion and This Year's Trip
Given last year's success, the SLAmbassador program is planning on expanding. In addition to taking 10 students to Frankfurt, in 2018 SLAmbassadors will have the chance to go to Torun, Poland.  
This expansion doubles the size of the program. Having two trips through SLAmbassadors along with the international cultures elective would mean that, through all four years, 25% of SLA students will get the chance to travel abroad with the school.
"It is especially meaningful for kids who never traveled outside of the country or who have never traveled on a plane before. Last time the fact that most of the kids we took needed to apply for their passports, that was pretty cool," Ms. Pahomov said.
People formerly involved with the trip encourage its expansion along with having new students apply.
"It is a great program and it should continue on. The program is about the individuals. If you have good individuals then it should be a great program," Rivera said.
While there is a financial burden involved with signing up, students should not worry.
"Anyone who is interested should apply. I especially encourage students who think that they don't have the resources to host or are worried that they don't have the money. We will fundraise to meet anyone's financial need," Pahomov said.
De La Cruz sees good things for the future of the program.
"People will see SLA as this school that is becoming diverse, more diverse than it was and opening up its doors to other places for students. It will lead by example. Maybe people could sponsor SLA."