Sarah Berg
Staff Writer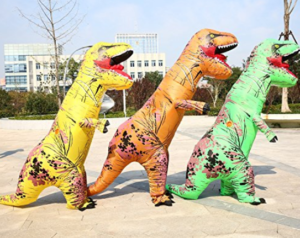 As the class of 2018 prepares to graduate, there has predictably been an uptick in the phenomenon known as "senioritis". This is a situation where we see many seniors' focus in school dwindle as they draw closer to the end of their days in high school.
Known symptoms of senioritis include showing up late, showing up less frequently, not doing work, and not trying as hard in academics. However, an unexpected side effect, unseen until this year, is a dinosaur.
This is a dinosaur that has proven itself elusive to a frankly frustrating degree. Although seniors were throwing around plans to buy more dinosaur costumes and all show up wearing them, since the fateful day the first dinosaur was spotted, I have not laid eyes on anymore. In fact, it seems as though the SLA dinosaur has gone extinct.
But this may not be a bad thing. For Geometry and Statistics teacher Ms. Gasser, it may be a relief. The day of the dinosaur was a traumatic one for her. "I was teaching one of my classes and Opoku [the owner of the costume] came out of nowhere into my room and scared me half to death with the dinosaur because I wasn't expecting it," she recalled, further describing the experience as surprising and shocking.
Ms. Gasser said that despite this, she didn't think the costume was disrupting class time, as students got used to its presence fairly quickly.
The costume was passed around a bit throughout the day, with Ms. Gasser recalling her student Tamir wearing it during another class. She was subject to violent attacks from the dinosaur at that point, which had proven itself an aggressive beast. It "was hitting me and making weird noises," the survivor spoke out.
Junior Eric Valenti witnessed the dinosaur's appearance in the hallways before class. He was confused by the sight, but not very taken aback. "I was like, 'why is there a dinosaur? That's weird!'"
He said that the response throughout the school was similar. People were posting about it all over social media, especially Snapchat, but they weren't talking about it for long afterward.
The same reaction may have partially been due to the climate at SLA where something new is always happening. Valenti joked that he originally thought it might have been a political statement, justifying that in his experience, "SLA is wild".
Valenti also brought up his thought that the dinosaur might have been an attempted senior prank. Junior Autumn Lor shared this instinct but questioned it as well. "If this was a senior prank, why did only a few people know about it? Isn't it supposed to be something for the whole grade?" she wondered.
If the small amount of participants in this event leads it to not fit the usual definition of a senior prank, then something else to consider is that SLA rarely participates in senior pranks, as Lor also pointed out. Because of this, there is no real precedent of what a senior prank at SLA looks like. Maybe this is the start of a new trend, and future classes will embrace the pranking.
As to why the dinosaur vanished so suddenly, the world may never know. I reached out to the owner of the costume but did not receive a response. It appears that the life of every dinosaur in this world is sure to come to an abrupt end.