Rasa Watson and Jeremiah Butler
Staff Writers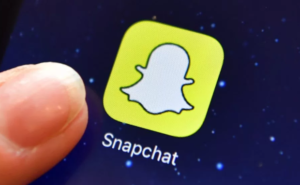 At SLA,  the most efficient way for the word to get around is snapchat. People constantly repost school events: pizza sale information, bake sales, party flyers and club meeting information.
A prime example of a group that uses Snapchat as a platform for promotion is the Black Student Union (BSU). Run by Freshman Rene Hart, the group uses the platform to encourage people to come to their meetings and events.
However, school club promotions are just a minor aspect of the Snapchat activity seen in SLA students.
Students use Snapchat to express themselves and show each other what they do during the day.
Despite the meaningless memes and drama such as fights and arguments seen from students at other schools, SLA students tend to avoid such behavior for the most part. SLA students typically use Snapchat as an outlet to share a common interest or just things parents or adults can't relate to.
"I use Snapchat for sharing places I go to because I do travel a lot and for what I don't want to share with my parents," said Sophomore Kai Bradley.
Content on Snapchat may include thoughts about things that others say or do. For instance, if someone was to say the n-word during a class discussion, a response would likely be waiting on snapchat by the end of the period.
Being much bolder about how Snapchat is effective for private uses is not a bad thing in a teenage community. Some things, like who's dating who or when the next party is happening, are just better left for students and students only.
Last year, Snapchat added a feature where you can have a combined story based off of people in the same location or customize a story so that you can share stories with other people. The SLA community created multiple SLA stories soon after. The stories included people from all grades posting various things all day.
"With the SLA stories, you could see what school is like for all four grades. I thought that was interesting,"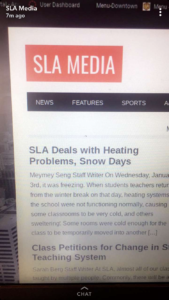 said Sophomore Siarra Cummings.
Along with last year's SLA story, there were loads of hilarious snaps, being seen around in the school. Not only were these snaps funny to look at, but they made peoples days just a little better.
For example, snaps that refer to someone spreading good vibes all 2018 just to be a better person, would influence a student to think maybe they should do the same. If multiple people feel this in SLA, positive vibes are spread throughout the school. Being in a school where work and stress easily go hand in hand, it's nice to see snippets of funny content to give the watcher a 'pick me up'.
The SLA story continued into this school year but randomly stopped sometime this fall. When asked, students were unsure or didn't notice that the story had stopped or vanished.
However, even though there's a lot of positive content on Snapchat, teenagers will be teenagers and drama will naturally occur. Snapchat gives people the freedom to post whatever they want behind a barrier. There have been multiple alterations that have occurred due to posts on snapchat.
Luckily, Bradley has a solution.
"I think whoever's in drama should just block that person and continue to use snapchat. It's really that simple," Bradley explained.  
Overall, snapchat has a lot of purposes and uses at SLA both positive and negative. From interacting with other students to watching what's going on, people use snapchat in ways that are influential in SLA even though there are a few negative moments on snapchat, the app plays a pretty positive role on a daily.
"Snapchat is a platform that allows for people to express what they normally would be embarrassed to show in front of people, for the good and the bad, safely hidden behind a screen," said Bradley.