Sanaa Scott-Wheeler
Staff Writer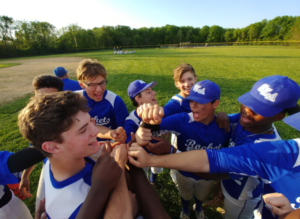 By the time they are juniors, Most students Science Leadership Academy are aware of The Philadelphia School District's policy that requires one full sports credit in order to graduate This can be earned either through the physical education course or by playing district sports. At SLA, students have until the end of their sophomore year to complete two seasons of a sport. If this credit is not earned in this manner,  the students are then rostered into PE in junior year with Health Teacher Pia Martin.
Because of this requirement, many underclassmen try to play school sports in order to avoid a year of PE. However, For student-athletes, balancing life and high school has can be challenging.
Sophomore Eithana Gonzalez had difficulties when she started playing softball.  ¨I would have to manage my time with sports and homework,¨ she explained. ¨I would get home at like 8 from games and there would be no time to do my school work, then I would fall behind. It's difficult because I live like an hour and a half away from the field and we have to be there 6:30 in the morning, but I make it work.¨
Freshman cross country runner Anthony Castro says ¨For the sake of me not failing, right after practice I would go home. I had no time to socialize. You can balance it out you just wouldn´t have any friends, because you don´t have time.¨
Sophomore cross country runner Jack Eagen reported a similar situation in his life.
¨I have to go to practice every day, and I had no time to do anything. Sports takes up most time after school so it's hard to get stuff done. Once sports season happens, you have no life.¨
Junior and students runner Eric Valenti says ¨Sometimes I don't feel well but I know if I don't show up I won't get the credits I need, that kept me motivated.¨
When asked about their experiences the athletes offered advice.
¨Don't let sports take up your life, don't over commit, You still have school work and you need to pass your classes.¨ said Eagen.
Castro says ¨Consider the situations you are going to be in when doing a sport. Don´t pick a sport you can´t you won´t want to do in certain conditions¨ he went on to say ¨Pick a sport that you know you´re going to stick with, don´t do a sport because your friends are doing it, take time out of your day to learn about that sport¨
Although Valenti plans to earn his credit through Students Run, he was complimentary of Ms. Martin's class.  
¨I have heard PE is not that hard if you're not the athletic type that's fine. Try to find a sport that you like. If you don´t like SLA sports and have to do PE, it's not that bad, Ms. Martin is nice.¨
When interviewed, Heath and PhysEd teacher, Pia Martin reflected and passed on knowledge about student-athletes.
"There are athletes who come into SLA as athletes, they participate in sports outside of school and usually have a better handle on how to be a scholar-athlete, students who are new to the game tend to struggle if they get involved in athletics while they are in high school."
Martin continued on to say, "Don't wait, get it over with, participate because you like to, don't participate because you want to avoid PhysEd. I will never ask you to do something I do not believe you are capable of. Your ability to move is your ability, it can always be improved but that is something you control."