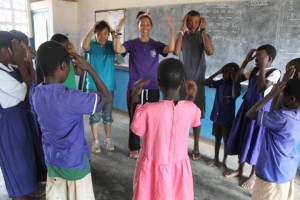 By Ryan Harris
Staff Writer
Spring Break has always been known as a vacation period where people usually hang out, party, or just relax. Instead of that, a select few SLA students and teachers took the opportunity to experience something new. These opportunities ranged between an exchange to Liverpool, a hiking trip throughout Arizona, and finally an excursion to Malawi, a developing country in Southeast Africa, to build a school. Needless to say, every teacher and student greatly enjoyed their trip.
SLAMedia asked three students to report back about their experiences.
Daniel Quach – Senior – England
Of the many things I've experienced in England, food proved to be very memorable and prominent. From difference in taste to difference in culture, the food found here opened me to new insights, but also to questions. What makes the food taste so different? Why is real sugar used in most, if not all, of the food products? Are the English brands found here related to their counterparts found in America (Asda – the "Walmart of England")? These are a few of the many questions I have. Even food, what we humans consume everyday to sustain, can provide a learning experience, even when we don't realize it.
I was exposed to many different types of food, and I wish I had tried more. The chocolate is sweeter and creamier than the ones in Philly. The food here is less salty (healthy). The whipped cream that came with someone's cheesecake had no sugar at all! I had a roast dinner at a carvery, which is sort of a buffet composed of beef, turkey, chicken, roasted vegetables, gravy, mashed potatoes, and Yorkshire pudding, which, surprisingly to an American like myself, is a type of pastry. Although the food I purchased was a bit pricey, the quality of it was great. I personally gorged myself with delicious ice-cream, some of which resembled hard, sweet whipped cream. The stereotypical fish and chips were excellent, which may be sprinkled with malt vinegar, if desired.
Overall, the food here was awesome, and if I was a critic, I would give it 4 stars. I wish to come back here soon, or find some English restaurants around Philly to replicate my desire.
Amanda Millatt – Junior – Malawi
I traveled to Malawi, Africa with a community service organization called buildOn for 2 weeks( April 3rd to April 18). I spent 10 days in Jembe Village (rural) with a host family. I was with 11 other philadelphia public school students and shared a room with 2 other students. The purpose of the trip was to assist the village in building a school block. The school can fit about 100 students and has 2 classrooms. I worked on the school for 9 days and did an assortment of jobs. Some of the jobs were easy like passing  bricks and some jobs were difficult like carrying a heavy bucket of sand on your head for 23 minutes walking up multiple steep hills. Every jobs was more of a challenge than usual because of the warm weather. We would work for 3 or 4 hours a day. Even though the jobs were challenging I was more than happy to push myself because I really wanted to see this village have a comfortable and sustainable learning environment. The schools that the village built don't have desk; the children sit on the dirt floors. With the buildOn school the children will receive desk, new chalkboards, cement floors and materials. On the first day there were 270 villagers working alongside us, their enthusiasm to build the school  made me want to work harder.
Abraham Musselman – Junior – Arizona
The first thing I noticed when our plane touched down in Phoenix was a large stone was an enormous stone structure jutting up through the buildings. The sandstone tower and many others like it dotted the landscape, stretching out to the horizon. Urban development had made no apparent attempt to break through them, and the city seemed built to suit the rules of the landscape.
Eight hours later, we pulled into our campsite at the Grand Canyon and set up our tents in record time. By the time we finished dinner, the snow that had begun to fall when we arrived was piling up around the campground. One of the most stunning images of the entire trip came when Ms. Laufenberg decided to take us to have our first look at the Grand Canyon that night. Once we stepped through the string of gift shops that lines the South Rim, our excited conversation stopped. Some of us cheered, wild-eyed, while the rest stood transfixed, occasionally breaking our gaze to take pictures against this eerie, swirling white backdrop. We saw an elk on the way back.
If you've never been to the Grand Canyon, there truly is no way to describe it. The vista stretches for almost ten miles in most places, and the resulting overload of light in your retinas makes everything look like an enormous painting. We learned this piece of information from our hiking guide, Ranger Nancy on day two. She also gave us Oreos to sedimentary model rock layers while we stood freezing on the rim. Our coats stayed on for most of the morning, including during our three mile hike into the Canyon. The trails are not blocked off by safety rails, and most of the edges lead to a sheer drop onto rocks. The walk down was slippery but quick, though we occasionally had to make way for packs of mules. We reached the 1.5 mile house in about two hours, and took a rest to wait for Jakobi Martin and Mr. Kay (Kay's leg had been crushed by a four-ton boulder and Jakobi heroically carried him down the slope, putting him down when they came near the group so he wouldn't look like a showoff).
On day three we drove (unshowered) to Flagstaff to spend the day shadowing their public schools. We split ourselves between three different schools in the area and touched base with our partner students with whom we'd been planning collaborative projects for months. That night we slept at the local high school after packing our bags for the main part of the trip.
We woke up at five (eight o'clock Philly time, the SLA kids were not affected by jet lag at any point during this trip) to load the vans and drive to the Grand Canyon Youth headquarters. After a six hour drive through the famous Monument Valley, we unloaded at the launch point where our river guides were waiting. Forming a fire line (the first of many), we loaded upwards of fifty bags of supplies into four boats. We spent most of the first few hours learning the basics of the paddleboat and getting to know our guides. Many of the rock walls along the first part of our journey contained drawings (petroglyphs) from native tribes thousands of years ago. We set up camp on a riverbank a few miles into the trip. After some swimming, we were divided into crews to prepare dinner and facilitate camp activities. Justin Pullins and his partner presented their interactive project on land sustainability. As the camp quieted down, few kids used a blacklight to (successfully) find scorpions in the sand, which did nothing to ease the city-dwellers' apprehensions about sleeping outdoors.
The next day, we left the sandy shores and sprawling deserts behind as we descended into another (admittedly less grand) canyon. We were surrounded on all sides by mountainous structures called "upsheers", which are formed when tectonic plates collide. The result is a mountain that looks like it has collapsed and slid down itself. After a hike through Anasazi ruins, we set out again down the river. We hit our first rapids about 15 miles in. Our boats never went flying through the water in the way that they do in the white water rafting videos, but we came out smiling and soaked to the bone. Our campsite for the second night was positioned on a bed of rocks. From our sleeping bags, we could see herds of mountain goats walking along the treacherous slopes on the other side of the river. Though we knew from the previous night's dinner, tacos, that we would be eating well, that night's dinner of spaghetti and meatballs complete with garlic bread and salad still surprised us. Over dinner, Justin and I asked one of our guides what his strange tattoo meant (simplicity, bro). We stayed up late (9ish) that night singing along to Justin's renditions of the Lion King soundtrack and looking at the constellations that we had learned from Matt Ginnetti's and Bernicia Guercio's project.
The wind picked up on our last day on the river. The temperature dropped ten degrees, though by this time we were used to the random, dramatic temperature changes in the canyon. Despite the conditions, Imani Johnson, our partner Jordan, and I presented our skit on invading species of fish. When we set off down the river, my boat (the only one paddled entirely by kids) had difficulty making progress. At several points we ceased to move at all and collapsed in frustration. Ms. Laufenberg captured the moment in which we triumphantly broke free from the wind current on video. When we finally reached our final campsite, we hiked up one of the largest upsheers to take a look at all that we had travelled through. The view stretched on for miles, and we could see the famous "Mexican Hat" rock formation in the distance. That night we sat around the campfire that we had begged for for three days.
We floated lazily down the last stretch of the river in an hour. As Ms. Thompson and Ms. Laufenberg drove to get the other vans, we helped the GCY crew unload and store the boats. We watched in awe as they unloaded crate after crate of supplies from what previously seemed like very small boats. After saying our goodbyes, we set off on our long trip home.