Zoe Kwasnicki
Staff Writer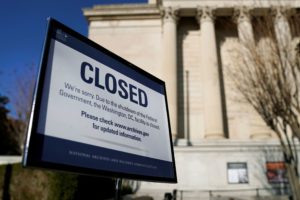 The government shutdown began on December 22, 2018, as part of negotiations between Congress and the President on funding to support security for the US Border with Mexico.  And while the shutdown ended on February 15, 2019, the effect on government workers and their families has not disappeared. Specifically, at SLA, multiple students with relatives who are federal employees shared their experiences and fears during the shutdown.
The direct consequences and emotions surrounding the shutdown vary from student to student as the financial dependence on the federal government is specific to each employee.
For Sophomore Brooke Hill, this difference in dependence is stark between her aunt and father. Both are unable to disclose the exact nature of their jobs. However it is known that her aunt works at the Department of Justice and that is her only form of employment, whereas Hill's father has multiple jobs outside of his government job such as recruiting basketball players and coaching them.
Because of this Hill is "praying" for her aunt who is currently living without financial support from a partner or any nearby relatives. By contrast, she is decidedly less worried about her more financially secure father.
Junior Sanaa Scott-Wheeler is in a similar situation. With both of her aunts currently employed by the federal government – one is a probation officer and the other is a judge – the shutdown is having an impact, although not a devastating one. But just because Scott-Wheeler has not been directly hurt by the shutdown does not mean she is not aware of its general effects on the Philadelphian population.
From government workers flashing their IDs in hopes of a free salad to a realization on the importance of an operating government, Scott-Wheeler had to say the following:
"Also while I was at work – I work at Sweetgreen which is this salad place – but yeah we had government workers show us their badges and at first I'm like "Oh my god that looks so cool – that looks amazing!" but then I'm like "Oh we have to give you free food". And it's like our company is losing money but then again you guys [government workers] don't have money to begin with right now."
Scott-Wheeler has seen a number of attempted interventions for government workers, with varying degrees of success.
"I remember seeing – I think it was in South Philadelphia? – where they had all the food laid out from corner stores for the government workers and they were like, "take the food" cause no one else is gonna give them free food. Because at Sweetgreen, our whole motto is we're people who are giving food to people you know we're not just a big business who wants our money, we are genuinely concerned about our customers. And I think it's like that for some businesses in the city like everyone who's giving out free food – their heart's go out to the families and those government workers."
Sophomore Elena Smith has dealt with an even more direct effect of the shutdown. Her mother works as a federal defender and, for the month of January, it was unknown whether or not her paycheck was secure.
"We started saving more and we started eating out less and I don't know – we just tried to save money," Smith explained. "We weren't that worried because we always think in the end it will work out – so we never really try to prepare."
Although Smith and her mother's outlook was fearfully optimistic, there was a high chance that they're only source of income would end due to the shutdown. Thankfully, during that period, Smith's mother's paycheck was extended to the end of March however it cannot be ignored that, if the shutdown had continued, they would be in a much more desperate situation.
And while the shutdown did not have a devastating effect on the students of SLA financially, it did have an effect on their trust within the government. Students worry about the possible shutdown continuation in February.
"I actually am. Seeing that it doesn't affect me that much right now, I'm worried, but it worries me even more that our president can just say "oh the government is being shut down," Scott-Wheeler stated.  
"For my future career I want to be an immigration lawyer and if the president says 'Oh we're shutting the government down right now – you don't have a job as of right now.' I don't know how to support myself."