It all started last year with an advisory memo about an opportunity for juniors to be a Drexel Student Fellow. After the application process, 5 students were chosen. Working with a Drexel professor and PhD candidate, we researched created research papers based around the UN Sustainability Goals. We then presented our findings for the International Conference on Urban Education (ICUE) in San Juan, Puerto Rico.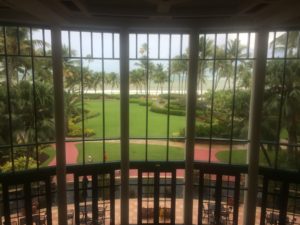 We first arrived in San Juan on November 4 and headed to the resort hosting the conference. The resort was right on the beach and there were different activities that we could participate in.
In the three-day conference, our first day was spent viewing other paper sessions. It gave us a chance to view other presenters at ICUE and see which presentation styles made sense. "I was nervous about the presentation until I actually saw other people presenting at the conference," said senior Isabel Medlock. We were also able to meet the five undergraduate education majors who were in a similar program at UNC Charlotte and Queen's' University of Charlotte.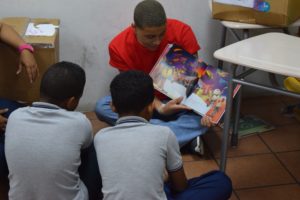 Attending the conference wasn't the only thing we did while in San Juan. We were also able to visit elementary, middle, and high schools in San Juan. While at the elementary school, we read to students. We then donated the books to the school and stopped by the middle school next door. At the middle school we played with students and donated more books to the classrooms.
The last day at the conference was our chance to present. We each had different topics that we focused on. I presented on food deserts and related health risks. Isabel Medlock focused on mental health and how it affects undocumented immigrants. Eva Karlen spoke on how to eradicate our mindset of wastefulness. Xavier Carroll's presentation was about urban community impact on water pollution. The last presentation on childhood marriage was by Tahmidul Bhuiyan.
This opportunity gave us a chance to present our research to a greater audience. We were able to discover not only things that we could be interested in later in life, but we were able to see our presentation and research styles. We were given the chance to conduct extensive research, allowing us to have experience before going to college. Xavier Carroll couldn't have summed it better, "It was a big opportunity and I loved it all."