Jayla Wright
Copy Editor
The Nintendo Switch has swept SLA into a frenzy. Whenever students seem to get a chance they huddle together with their consoles and get ready to fight in Super Smash Bros. Ultimate. One of these students is senior Ameer Johnson, whose love for the fighting game pushed him to create a Smash Tournament at SLA.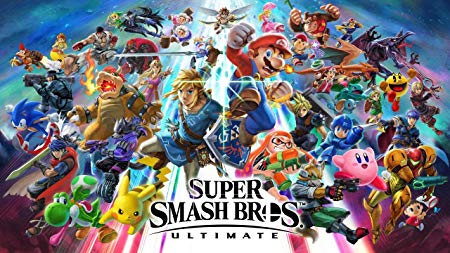 Starting from the beginning of the school week, kids face off in head to head battles and advance through a bracket system. Players are placed based on skill and previously beaten matches with the highest ranked players fighting the lowest ranked first. This is to prevent higher ranked players from knocking each other out in the first round. By Friday, everyone gathers in front of a big screen to watch the best players battle until a winner emerges.
Johnson played casually after the game's release and realized there was no good way to gauge a person's skill. To solve this issue, he created the tournament so players at SLA could improve.
A similar attempt was done in the past with Smash 64, but it wasn't a success. Johnson tried again with Ultimate, but this time was different. Now, the tournament was made with a schedule and restrictions all adding up to fun and organized experience.
The tournament's well-crafted system is what allows it to run smoothly. Interested players fill out a Google form stating their schedule so the tournament can be planned around whenever they're free. Restrictions, such as players having to fight the day they're in school, are placed to allow the tournament to run its course without any hiccups.
This system allows players to not stress over the technicalities of the tournament and instead focus on the matches and each other.
Smash opened Johnson to talking and hanging out with kids he usually doesn't interact with, forging stronger relationships. He states "Even when I'm having issues with some different people, I think just playing Smash helps me mend the relationship with some of these people. I felt like I've gotten closer to certain players that I otherwise probably wouldn't talk to if I didn't play Smash and there's a lot of people who were in the tournament and I've had to talk to face to face and we've been more cool outside of Smash."
A mutual spark for Smash draws SLA students together. Most members of the tournament would cite Johnson as the reason for joining. Such students like senior Sarah Berg who finds herself a minority in the tournament.
"I am the highest ranked girl, I am the best girl in the tournament by far… I am the only girl on the tournament." states Berg.
Gaming, especially fighting games, is seen as more masculine and aggressive which can deter girls from joining tournaments. Berg has one message for any girls considering to join.
"I wish there were more girls cause it is a stereotype that girls can't game or whatever and I joked about it before during matches when I've messed up, like 'Oh I'm a girl'." states Berg.
Despite being the only girl, Sarah appreciates the tournaments. The more she participates in, the better she gets. She wins more and more matches while being cheered on by her teammates. The tournaments provide a space away from the workload of school and a way to be with others.
Tournaments can involve blasted music, jokes, and people laughing. Some players see this as an opportunity to have fun, others a chance to be competitive, but for senior Sean DeSilva, he prefers to use it as an opportunity to learn.
Like Berg, DeSilva was also recommended to join by Johnson. He had been playing Smash casually on his own before deciding to apply what he practiced into the tournament. Players who are not top-ranked mostly play for the experience.
While there is some focus on getting better, rank is not everything. The players come together for the love of the game first and foremost. Moving up in the tanks is a fun challenge, not a sole goal.
DeSilva states "No one really thinks of the rank or anything like that. Everyone is treated equally." He continues and says, "There's a silent acknowledgment of everyone's rank and nothing is really said because that would just be rude, so everyone understands each other's capabilities in the game."
Smash can be more than a game. It starts communities, provides a challenge, and creates friendships. This is evidently shown by the players in the tournament. If you want to have the same experience talk to Ameer Johnson about joining. You'll appreciate the friends you make on your path to victory.