Jeremiah Butler
Staff Writer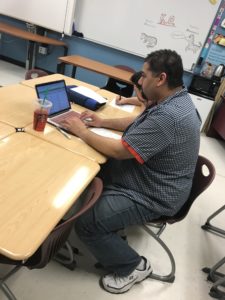 In a classroom, teachers, and students both have expectations to be the best they can possibly be. At SLA, there are three specific guidelines students are expected to follow: "respect yourself, respect the community, respect SLA as a place of learning". These statements embody everything SLA is all about.
At times, mistakes are made and forgiveness is received. But everyone has had that moment when something just annoys you to the fullest extent.
So what happens when a member of the community is truly getting on your nerves?
A well talked about pet peeve seems to be not putting things back the way they were. SLA teachers feel strongly about leaving their room dirty.
"I will never let go of the trash thing because when you come into class and it's clear there is a difference," said Spanish Teacher Asha Francisco, "I don't know, you feel more, I don't know it's just better."
Another teacher pet peeve that was said, but most students don't take into consideration, is not reflecting on graded and well thought out explained work.
"Once I had a student who took their paper out of the folder, checked the grade, and then tossed it in the trash. I had to speak with that student about how that made me feel," said Math Teacher Sunil Reddy.   
Math Teacher Sunil Reddy is big on turning things in and giving good feedback. He expects that students grow and learn from his feedback.
"First, it showed me that they did not care about learning from their mistakes. Second, it showed me that they did not respect archiving their work to reflect on much later should the content be revisited. Third, it made me feel like I wasted my time addressing their mistakes when all they cared about was looking at the final grade on the homework.," said Math Teacher Sunil Reddy.
Of course, students also have pet peeves that teachers may not be mindful of.  
"When certain teachers take forever with their grading an at the end of the quarter since nothing is graded it messes up all of our grades," said Sophomore Sanaa Scott-Wheeler.
"The part about this that irks me most is we have specific deadlines to turn assignments in with expectations that it will get graded within a week or a little longer from the time it is due but right now it's January and i'm still waiting for a teacher to grade something that was due in November. I'm not sure if it's a matter of them needing to grade or them needing to put grades into Canvas."
There are things or task that a student knows they should do to better themselves or just make life easier, but they don't. Without knowing it, this leaves a negative impact on the teacher and who really wants that?
Most pet peeves, however, are things that both teachers and students can agree on. Being on the same page of why something annoys the other person is important as well to the other opposite side of just not understanding or not caring enough to change and solve the problem.
"For me as a teacher, I would tell them to check canvas and if they did not have the work to turn in I would ask for them to turn it in tomorrow. If they don't have the work by then, I would just take points off because there was time to do the assignment," agreed Scott-Wheeler about Reddy's pet peeve.
The message interviewed teachers got across is that time and effort does go into their jobs and that they want to students to respect that. Interestingly, students were annoyed by the same thing.