Sanaa Scott-Wheeler
Staff Writer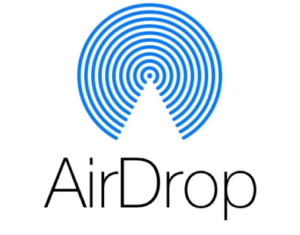 It's a typical ride home for me. I slide down the red, dirt covered steps of 15th street station to the running tin train covered in orange.
As the train pulls to a stop in front of the platform, herds of middle schoolers, high schoolers and adults dressed in business casual attire shuffle into linked cars on tracks. I rush to find a seat for my journey, pull out my earphones and turn my volume on high, and music notes flood from my earbuds.
I scroll through my Instagram to see what I missed throughout the day. Only memes, Shade Room tea and several birthday posts appear.
Then, a surprise: an airdrop from an unknown sender, ¨iphone¨ pops up on my screen.
Although this is not the first time this has happened, I´m still amazed when strangers interact with me.
Time for some anonymous airdropping.
What is airdropping?
This feature was added to the iPhone in 2011 available on iPhone 5 and up.  It allows the user to send pictures and videos to anyone around them who has feature turned on. Most of the time, the airdrops I receive contain sexual content, a few fight videos, some twerk videos, then others that are neither sexual nor funny but just disruptive.
Sometimes people are aware who is being Airdropped or airdropping because there is a name, sometimes the airdrop is sent under an anonymous name of ¨iPhone¨.
I first learned about aidropping when I got an iphone in 7th grade. While using our phones as calculators some of my classmates would randomly send pictures to the class. Although some of it is annoying, I enjoyed it because no one ever really knew what they would get as it was never expected. The content I have saved in a folder to airdrop others contains memes and pictures I have from previous finsta posts.
That day on the train, I accepted the airdrop from the unknown sender. Why? Well why not. The video loads, then I see a girl in a minimal amount of clothing fixing the camera then backing away.
NOPE. DELETE! Does no one have wholesome memes??
I open my airdropped folder and scroll over the countless memes then I decide. I select one of my favorites, the list of every iphone near me pops up. Then BOOM sent.
¨ẄHO IS AIRDROPPING TURTLES?¨ screamed a woman sitting across from me. The entire train car burst into laughter. After my turtle sent those around me into confusion, I received four individual airdrops. I hit accept for each. Again. Why not? The train rides get boring.
Science Leadership Teacher Larissa Pahomov, was setting up a grade wide meeting for the freshman, she had her phone out ready to play music when she received an airdrop from ¨iphone¨. She declined the airdrop because we had been talking about how the airdrops sometimes have inappropriate content.
¨I didn't want to deal with the potential mess of having a freshman send a teacher something she did not want to see,¨ she explained.
Pahomov story highlights how there is a potential danger and loss of privacy with airdropping. Anything can be airdropped to anyone with airdrop turned on, and you never know who might be on the other end of your line.
The ride has been fun. But I'm over it now, I'm getting an Android.