Amelia Benamara
Staff Writer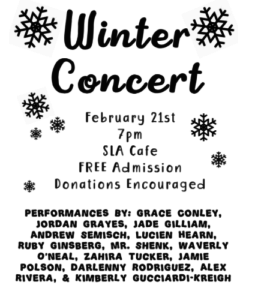 On February 20th, 2018, the first-ever winter concert was held at SLA Center City, hosted by teachers Anna Walker-Roberts and Steph Sessa.
The concert included musical performances by students, and staff, including principal Aaron Gerwer. Not only were many voices heard, but musical talents were also shared by a number of students, as well as dance performances from the Black Student Union Dance Team.
Having a winter concert in a community such as SLA's caused many individuals to walk away with confidence.
"When I performed Killing Me Softly, it was a short-lived experience, so to be able to take part in an event celebrating what you and your friends can do is really nice," junior Sashoya Dougan shared after the event.
Unlike other concerts with a bigger audience where everyone's attention is on you, SLA's Winter Concert was more intimate. Dougan expanded on the meaning behind the event saying:
"It was only a branch of SLA because we, in a way, made something that shines a spotlight on one person, shine onto the rest of the community."
Although the night was filled with memorable moments that were beautifully organized, more confirmation is preferred because a number of people said they were performing, canceled last minute.
Junior Mindy Saw who was part of the audience stated, "For future preferences, maybe organizing a better method for outreach, just to gather a larger performing team and audience."  
Considering that SLA, unfortunately, does not provide vocal, or musical classes students can take part of, having a concert as such means a lot to performers such as junior Darlenny Rodriguez.
"To performers, such as myself, it meant a lot to have the opportunity to share multiple music talents," Rodriguez exclaimed.
Digital video and photography teacher Anna Walker Roberts and biochemistry teacher Stephanie. Sessa put in a lot of work and dedication into this event, providing students as much comfort as possible
"I have never performed solo, so Ms. Walker-Roberts was very supportive and comforting. She constantly check up both during rehearsals and during the concert," Darlenny Rodriguez made clear.
Another reason to why SLA should dedicate more time into planning more events that allow students of all grades to expose their talents to an audience inside of the school is because this is another opportunity to unite the community.
"I have met a number of people that I have never thought of talking to outside of the daily stressful work environment. It was like getting to know them on a different level — through their vocal talents. Hearing them sing with all of their emotions built a connection," Rodriguez explained.
Singing isn't the only talent that certain students posses, there are a handful of talents at SLA that deserve to be showcased. A special performance was shared by SLA's dance team which added a bit of spice to the night.
"Some people have dogs that can do tricks!" Darlenny Rodriguez jokingly suggests.  
Organizing future events that consist of multiple performances can be really awesome not only for fun but to discover new things about people who you regularly see in the halls in what's mostly a work environment.