Staff Writer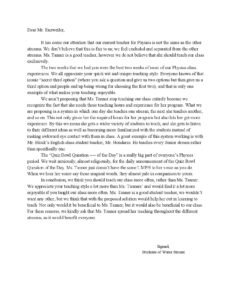 At SLA, almost all of our classes are taught by multiple people. Commonly, there will be a Senior Assistant Teacher, and sometimes graduate students who help out the teacher. Usually, lessons will alternate between these teachers so classes experience a mixture of teaching styles.
Recently, the juniors in Water stream were unsatisfied with the student teaching system in their physics class and petitioned to change it. Their argument: they were only being taught by the student teacher, and found this unfair.
The petition's proposal was that the student teacher alternate between teaching the four junior streams instead of solely Water. It defended this suggestion by claiming it would not only benefit the students, but the teacher as well. "This not only gives her the required hours for her program but also lets her get more experience. By this we mean she gets a wider variety of students to teach, and she gets to listen to their different ideas as well as becoming more familiarized with the students instead".
The petition was successful, and ultimately was able to garner signatures from the majority of the class. Why did so many people sign?
Student William Huang agreed with what it stood for. He explained, "I was excited to know that a classmate of mine was trying to fight for something that I've been thinking about for a while. I've been wanting a change to happen, but I decided to just deal with it."
Interestingly, Huang did not actually believe it was going to work, and became "extremely nervous" about the teacher addressing it.
A student who preferred to remain anonymous spoke about why they did not sign, citing initial thoughts that "the petition was a class joke", but mostly reluctance because they did not get to read the whole letter. However, this student was not surprised at the achievement, "because SLA does like to hear from its students about things to improve on".
Physics teacher Mr. Enzweiler described his thoughts when given the petition as a progression, recalling, "First: this is weird. I've never been given a petition by any students whatsoever. Next was a little bit of frustration because I'd been very careful about how Ms. Tanner and I had been implementing ideas and working her through the class. Then a little bit of 'this is so SLA'."