By Soledad Alfaro-Allah and Claudia Bonitatibus
Staff Writers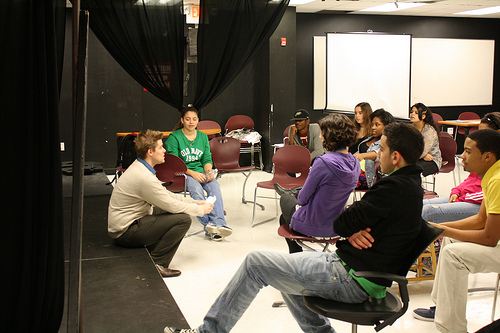 Unlike most schools, SLA did not lose any teachers through the recent budget cuts. This means that the nearly same variety of courses are being offered to students.
However, the budget cuts have had an effect on the elective courses that are offered, as well as who is teaching them.
What happened at SLA was something of a domino effect. Because teachers had to be rearranged. A complicated system was created to keep as many courses offered as possible.
English Teacher Matthew Kay gave a detailed description of this process.
"Because of the budget cuts we were unable to have me stay on as a history teacher. We had to find outside funding to keep me here period otherwise we would not be on staff at SLA this year." explains Digital Video teacher Doug Herman
Mr. Herman was originally going to be laid off as a history teacher, but his position was saved by funding that that turned him into a full-time digital video teacher.
"By getting the outside funding we then had, I needed to be a full time teacher for that funding to take effect, therefore we added another section of digital video. We almost doubled the amount of media students at SLA." said Mr. Herman
While some courses, such as Digital Video, have expanded in size, others have plummeted, resulting in many students being placed in electives that they were less than happy with.
"Many kids who wanted to take drama this year unfortunately could not because there was not a sufficient amount of space. Mr. Miles now teaches drama and computer science because I take on many more english classes so I only teach freshman drama." Said Mr. Kay.
Some students who were disappointed in their electives found a creative solution to their problems.
"When I picked Journalism I put it as my third choice, and then I really wanted dig vid," said Sophomore Greta Haskell.
"Then Bella Mezzaroba was like, 'I wanted Journalism' and I said I wanted dig vid. So we went to Miss Dunda and got switched."
Even though there have been some changes in curriculum we are fortunate to be able to keep most of the courses open and keep all of our staff.  Schools all around Philadelphia have had to shut down and cut out courses, leaving many capable teachers unemployed.
Mr. Herman explains how the budget cuts have affected teachers in Philadelphia.
"I think generally speaking I have a lot of friends in the city, they're teachers and most of my friends currently don't have jobs as a result of the budget cuts. I was extremely lucky. I would have been among them, I would be on unemployment now, for the first time in my life. I would have to find a job, or I would have to be actively searching for a job, but when everyone else is laid off too. There is this big crazy crossover where everyone is looking for a job and since they haven't signed the contracts yet there was a freeze on reinstating employees"
Sophomore Greta Haskell said "I think that at SLA, I thought things were going to change and then we raised all this money and I think everything's okay."