By Jenn Wright
Staff Writer
It's red and makes people faint. It stars in movies and is in every body.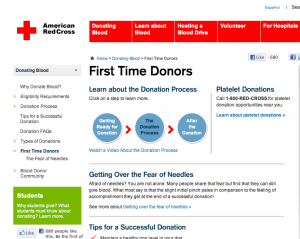 Blood is an afterthought for most people, unless you are in extreme need of more of it.People with diseases like Sickle Cell Anemia or victims of disaster and accidents depend on getting more of it.
This year, SLA will host two Red Cross blood drives of it's very own. Seniors Uyen Ngyuen and Gisela Giolafina will host one on December 13, 2011 as well as Senior Shalia Wallace's on May 22, 2012, all as their Senior Capstone Projects.
In conjunction with the Red Cross, SLA provides the people to donate and the space as well as a few student volunteers.
Wallace, already a certified blood drive volunteer, is hoping to spread the word about Sickle Cell and plans on having an information meeting to raise awareness.
Right here in Philly, The Children's Hospital of Philadelphia (CHOP) has one of the largest Sickle Cell treatment and research programs in the country.
According to their website, "sickle cell disease is the name of a group of inherited blood disorders that is characterized by chronic anemia, periodic episodes of pain and other complications."
Blood drives are becoming something of an SLA tradition. Last school year former Senior Aimee Long ('12) organized one with the Red Cross. Unfortunately, nurses from the Red Cross declared a strike on the day the drive was supposed to take place.
Despite the setback last year, these seniors all hope the tradition continues.
"I want to get more donors than the past years," Wallace said.
Things potential donors should know are, they must be 16 or older to donate and if taller than 5'4 at least 110 pounds. Sixteen year-olds need a signed parental consent in PA.
Ngyuen advised that all donors should  "have a lot of fluids, drink a lot of water and eat a lot of iron food like spinach, red meat and raisins."
Walk-ins for students over seventeen are welcome, but you might not get your preferred time to donate. If you've donated before you are encouraged to bring your Red Cross Donor Card to speed up the registration process. Any questions can be answered by Uyen or Gisela by email or in person.
Donors for December 13 are encouraged to recruit donors for Wallace's drive in the spring.