Sarah Berg
Staff Writer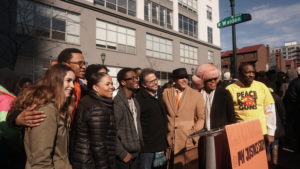 Last Wednesday at 10:00 AM, SLA participated in the 17 minute-long National School Walkout. The crowd consisted of students from every grade, along with parents, speakers, and faculty members.
Originally organized to take place in the PECO lot on Market-Street, plans were changed last minute which ended up in the crowd forming in the alley outside of school on Walden Street. Many students held signs, some of which reading: "That could have been us," "SLA against gun violence," "Rise against gun violence," "You fear we'll take your guns, We fear you'll take our children," "Our lives are worth more than your blood money," "Our lives are worth more than your guns," and "Enough is enough".
Junior Jack Sugrue chose to walk out because he is unhappy with the current political situation in the country. He brought up students who were being prevented from walking out in other schools, saying, "for their sake and for ours, I think this is an important thing to be going out and doing."
"I feel like this is an issue that hits really close to home though I've never been affected by gun violence in my family," said Junior Bronwyn Goldschneider. "I've been watching videos over and over and over again of the survivors [of the Parkland shooting] and it really breaks my heart every time. I don't want anyone to ever have to go through that again."
Over the course of the walkout, there were several speakers.
"You got to stand up, send a message, and you gotta shut it down," shouted Senator Vincent Hughes. He added, "Do not let this be your last time stepping up, standing up, and speaking for truth," and "If you can register to vote, make sure you get that done before the day is over."
Actor, Sheryl Lee Ralph, spoke as well, calling out, "Today, you took this moment to leave your classrooms to stand up for some students who cannot stand up for themselves because they were shot down at the prime of their lives- just like you, so young, so smart, so bright, so full of life. For some of you, this may just be a few moments out of the classroom, but for others of you, it will be a moment that you recognize that you are full of power." Sheryl Lee Ralph is also the wife of State Senator Vincent Hughes.
There were a couple of call and response chants led by Councilman Kenyatta Johnson, which went "Don't shoot, I wanna live" and "Peace not guns".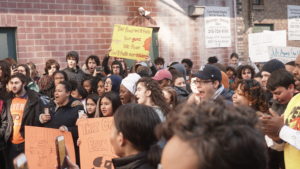 Johnson also told the story of how he became involved in gun control activism.
"In 1998, my cousin was murdered in the streets of South Philadelphia. A young man rolled up on a bicycle and took his life. At that particular time in my life, I took that anger, I took that pain, and I became the change that I wanted to see in my community."
Along with politicians, we heard from voices active in the Philadelphia community. Director of the Philadelphia Youth Commission, Ricardo Calderón, spoke, sharing a saying from the Youth Commission: "No decision about youth without youth". Calderón encouraged students, saying "Any time in history, any movement, any revolution, any monumental change, young people were always at the forefront. And that hasn't changed today."
Principal Lehmann, who was present at the walkout along with Principal Gerwer, began by quoting Margaret Mead, "Never doubt that a small group of thoughtful, committed citizens can change the world; indeed, it's the only thing that ever has."
He went on to motivate students, "There will be those who say that you shouldn't speak because you are young. They're wrong. There will be those who say you can't vote so it doesn't matter. They're wrong. There will be those who say that we have to listen to the money, that we have to listen to those who influence Washington with their dollars. Today you show them that they are wrong."
Lehmann thanked the speakers who showed up "for being here, for showing students that yes, you too know that their voice, their ideas, their activism matters." He also spoke on behalf of the staff of SLA, saying "We are so proud of you today. We are so proud of all that you do. And we know that you will and do change the world." This attitude was reflected in the letter of support from the faculty that Ella Burrows read.
Black Student Union Leader and Junior Zoey Tweh pushed her peers to go farther than walking out.
"To create safe spaces it just doesn't take a walkout. Everybody here has the power to do more than that. And being the students that we are, we go outside of this building and we create change in our own communities, we educate our own communities, we go to voting polls and we volunteer. We do more than just walk out because we are students but we are also strong, powerful leaders in our communities."
When the 17 minutes was up, the majority of the crowd walked back into the school building to resume their day. However, there were a number of students whose priorities were not in returning to school, but continuing to protest. These students walked over to City Hall, then to the School District building.
Goldschneider was one of them. Her rationale was "if I'm gonna skip school, I'm gonna have a good reason, and this is the best reason for me".
As the protesters were walking up Broad Street, Goldschneider noticed that some students were climbing on top of cars, trucks, and poles, and she described an incident with a police car.
"A cop car pulled up right next to the crowd and a whole group of kids surrounded it. They got in the window, and they kicked the window, and the cop started getting out and they ran." She said that she, as well as a lot of people around her, didn't agree with this behavior.
When they returned to City Hall, there were several student speakers from various schools. Goldschneider recounted that "they were given a microphone and spoke, but the group was so large that people couldn't even hear them, but it was great anyway." She went on, "We had cars beeping with us, we were screaming at the top of our lungs. We blocked off streets, which some people seemed annoyed about, but we only blocked them for 10 minutes or so."
Goldschneider's main takeaway from the protest was the lack of adults. "I didn't see a single adult, that was a cool thing. When we got to the speaker area, there were some adults trying to organize the speakers, that were teachers or something, but in the marching part of it, there was not a single adult in sight."